Low Inventory Levels Continue to Plague the Tahoe Real Estate Markets
After the record-breaking winter of 2017, the Lake Tahoe and Truckee real estate markets are having a hard time keeping pace with tenacity of the first four months of 2016. Many statistical data points that I track (shown below) are off the pace of 2016 which is due to the heavy winter. Also the fact that many neighborhoods are just melting out now and most importantly, historically low inventory levels are having an effect on current market conditions.
Buyers are anxious to purchase Lake Tahoe homes, but until recently there has been extremely limited inventory which has caused a 21% decrease in sales volume. When good quality homes come on the market, they are getting lots of attention which has caused the median home price to rise 3% in the first four months of the year.
Currently, there are 110 homes under contract with a median value of $669,000 and 20 homes priced above $1M which shows me that the North Lake Tahoe markets are heating up going into the summer selling season. The high number of luxury home escrows tells me that the luxury market remains solid and will continue to pull the other market segments up as the year progresses. Oliver Luxury Real Estate recently closed escrow on the historic Drum Estate for $28.9M, representing both the buyer and seller of this historic West Shore lakefront estate. The sub $600K price point is extremely active with minimal inventory which is causing a rift in the lower price points making it harder than ever to find good quality homes in the sub $400K price point.
Lake Tahoe is full!
Lake Tahoe is FULL and the current lake level is at 6,228.30' which is only .70' away from the legal limit of 6,229'and 5.3' above the natural rim! The Tahoe City Dam is currently releasing 1,020 cubic feet of water per second into the Truckee River and we have seen releases of up to 2,000 cubic feet per second over the last month! A full lake drives demand for lakefront properties and increases recreation activity at Lake Tahoe which is a positive for the real estate markets. A full lake and memories of a historic winter will help bolster the Tahoe real estate markets.
If you are considering selling your Lake Tahoe property, now is the time as buyer activity is strong and inventory is low. Please contact me to discuss how I can help you achieve your real estate goals.
Year over Year Market Conditions and Value Trends
April 2017 Statistics
233 Single Family Home Sales Down 21%
Days on Market: 107 Down 8.5%
Avg. List to Sold Discount: 5% Up 24%
Total Sales Volume: $228M Down 26%
Average Price: $977 Down 7%
Median Price: $640K Up 3%
5 REO & Short Sales Down 44%
10 Sales Below $300K Down 17%
53 Sales over $1M Down 29%
10 Sales over $3M Down 58%
High Sale Price: $15M Up 41%
Low Sale Price: $140K Down 32%
April 2016 Statistics
294 Single Family Homes
Days on Market: 117
Avg. List to Sold Discount: 3.8%
Total Sales Volume: $308M
Average Price: $1.048M
Median Price: $620K
9 REO & Short Sales
12 Sales Below $300K
75 Sales over $1M
24 Sales over $3M
High Sale Price: $8.9M
Low Sale Price: $205K
Lake Tahoe Real Estate Market Report Sales Chart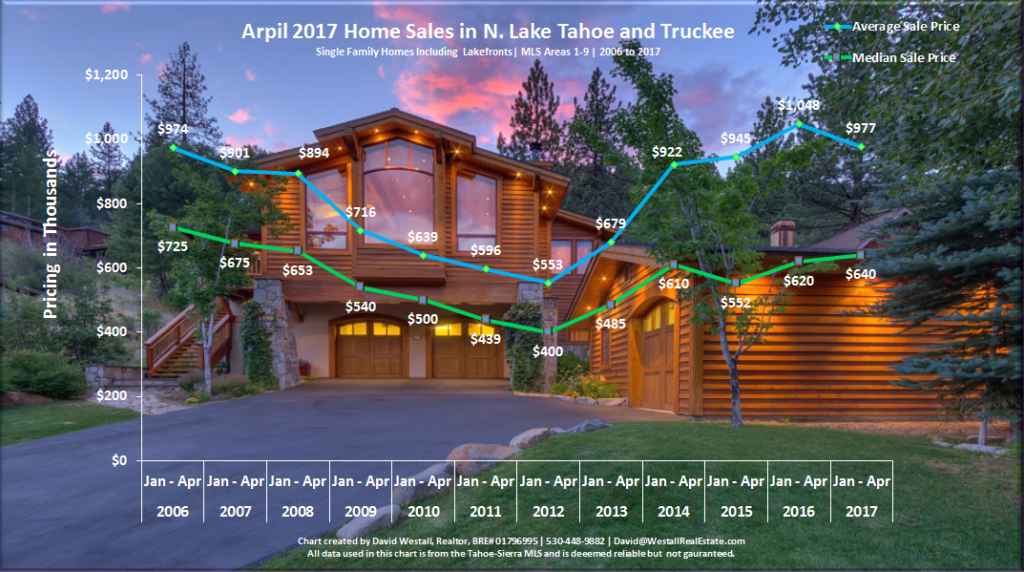 *North Lake Tahoe and Truckee Single Family Home sales including lakefronts. Data is taken from the Tahoe-Sierra Board of Realtors, MLS Areas 1-9.
Year Over Year Lake Tahoe Real Estate Sales Volume Chart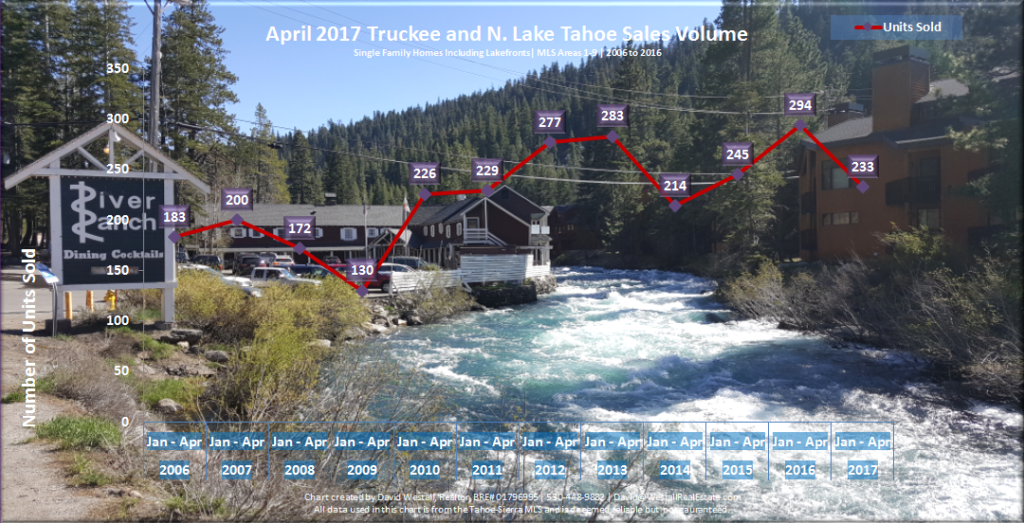 Past Lake Tahoe Market Reports
Do you have questions about Lake Tahoe Real Estate? Please call me (530) 448-9882 if you would like to discuss market conditions in more detail or to talk about how I can help you achieve your real estate goals.
For real estate news, property listings and Lake Tahoe events sign up for our newsletter here.
David Westall, Realtor
OLIVER LUXURY REAL ESTATE
P: 530-448-9882
David@WestallRealEstate.com
CA BRE# 01796995