The Effects of the COVID-19 Pandemic Are Felt in Lake Tahoe
Lake Tahoe Real Estate April 2020 Market Report: April was the first full month of sales after the Shelter in Place (SIP) order went into effect on March 19th and it was not surprising to see sales volume and several other indicators report sub-par performance due to the implications of the COVID-19 pandemic and the restrictions implemented by the SIP. Even though sales numbers are off, we continue to see strong buyer demand and limited inventory, which has helped stabilize the market with no significant pricing erosion at this time.
April 2020 Lake Tahoe Real Estate Highlights
Average Price = $1.01M (Up 4% over April 2019)
High Sale = $5.25M (Up 3% over April 2019)
4 Sales over $2M (Up 25% over April 2019)
47 Single Family Home Sales = $47M in Volume (Down 35% over April 2019)
12 Sales over $1M (Down 46% over April 2019)
Median Price = $660K (Down 13% over April 2019)
Buyers Return to the Tahoe Real Estate Market
As the SIP restrictions start phasing out, we are seeing buyers return to the market and in April we saw over 50 new escrows open and in the first 11 days of May, we saw an additional 46 properties go under contract. This speaks volumes about the demand of Lake Tahoe and Truckee real estate and shows that forward-thinking buyers want to spend more time in Tahoe and are hoping to close deals before the 4th of July holiday. We anticipate that drive to destinations such as Lake Tahoe are going to have a much broader appeal as fewer people will return to air travel as the SIP is phased out. Additionally, with graduations, sports, and various events being put on hold, it's expected that people will be coming to Tahoe with more regularity which should bolster demand for Tahoe real estate.
During the Shelter in Place (SIP), many people have been working from home and telecommuting with great success. I have talked with several buyers over the last few weeks who are starting their home search and many have noted that they are hoping to live/work in Tahoe 5+ days a week and then spend a day or two in the Bay Area for required meetings. As technologies for working remotely have developed and more people have adapted to working remotely, it's not surprising that more people want to have a better work/life balance and spend more time in the mountains living a healthy lifestyle. This seems to be a perpetuating trend that will increase the overall demand for Tahoe properties in the years to come.
Year over Year N. Lake Tahoe, CA Real Estate Market Conditions and Value Trends
Jan – Apr 2020 Statistics
222 Single Family Home Sales Down 3%
Avg. Marketing Time: 87 Days Down 3%
Avg. List to Sold Discount: 4.5% Up 2%
Total Sales Volume: $252M Down 14%
Average Price: $1.13M Down 13%
Median Price: $715K Down 1%
2 REO & Short Sales Even
0 Sales Below $300K Down 98%
63 Sales over $1M Down 3%
14 Sales over $3M Down 18%
High Sale Price: $9.5M Down 74%
Low Sale Price: $310K Up 44%
Jan-Apr 2019 Statistics
228 Single Family Homes
Average Marketing Time: 90 Days
Avg. List to Sold Discount: 4.4%
Total Sales Volume: $294M
Average Price: $1.29M
Median Price: $725K
2 REO & Short Sales
5 Sales Below $300K
65 Sales over $1M
17 Sales over $3M
High Sale Price: $37M
Low Sale Price: $175K
Lake Tahoe Real Estate April 2020 Market Report Sales Chart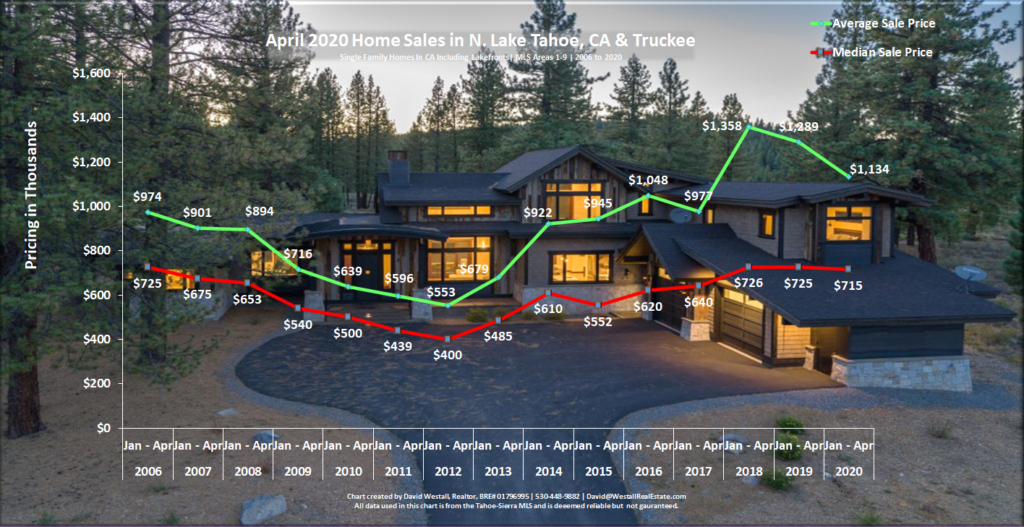 Lake Tahoe Real Estate April 2020 Sales Volume Chart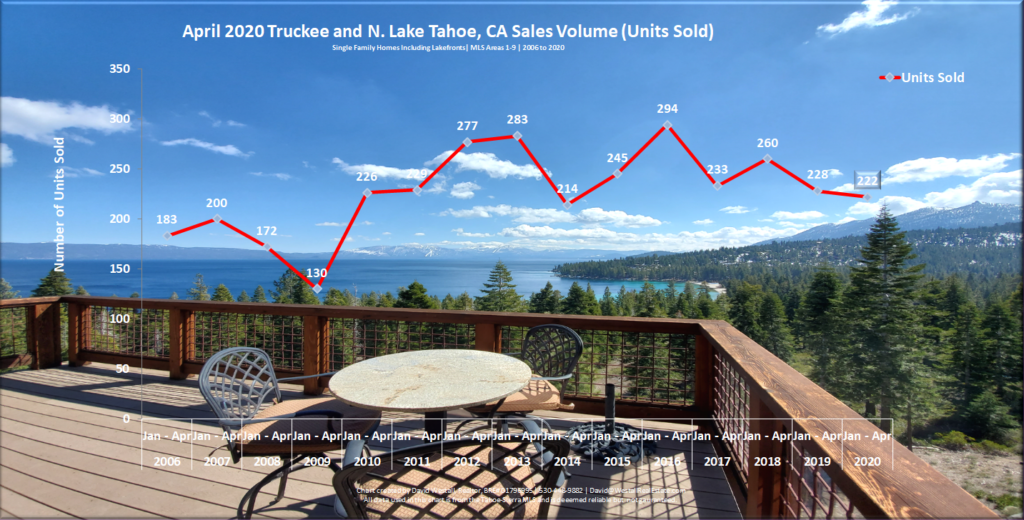 *North Lake Tahoe, CA and Truckee Single-Family Home sales including lakefronts. Data is taken from the Tahoe-Sierra Board of Realtors, MLS Areas 1-9.
Over the course of the next few months, we anticipate that sales volume/units sold will be below average due to the ongoing pandemic which has reduced the number of buyers in our market. While demand is likely to be off, we are also forecasting that the supply of inventory will be lower than typical which should help balance out supply and demand which will help stabilize pricing.
The Experts Weigh In
California Association of Realtors, Chief Economist, Jordan Lavine provides a California Covid-19 Economic and Market Update: https://www.car.org/marketdata/marketforecast
CoreLogic U.S. Home Price Insights: https://www.corelogic.com/insights-download/home-price-index.aspx
Zillow Home Price Forcast: https://www.corelogic.com/insights-download/home-price-index.aspx
National Association of Realtors Existing and Pending Home Sales: https://www.nar.realtor/videos/march-2020-existing-and-pending-home-sales
Lake Tahoe is Starting to Open Up
Lake Tahoe is starting to open up in a safe and phased approach. The Tahoe Forest Hospital is reporting minimal new COVID-19 cases and it appears that the SIP order and social distancing efforts are working. We have seen a few golf courses open with others opening within the coming weeks. Mountain biking and hiking have been popular activities for social distancing and there is anticipation that local motorized boating on Lake Tahoe will start later this week. As the phased openings accelerate, we anticipate that demand for Tahoe real estate will increase, and the 3rd and 4th quarters should provide a robust number of closings.
Only time will tell what lies ahead for the Tahoe real estate market, but what's known, is that Tahoe is a spiritual place, a sanctuary for health and wellness, and people purchase homes here to elevate their lifestyle and enjoy all that the mountains have to offer. Tahoe real estate is not only a secure investment in lifestyle but historically has been a solid play for long-term appreciation and a way to create lasting memories with friends and family.
Lake Tahoe Real Estate Market Report Archive
April 2018 Lake Tahoe Market Report
Contact Dave Westall – Lake Tahoe Real Estate Agent
Do you have questions about Lake Tahoe Real Estate? Please call me at (530) 448-9882 if you would like to discuss Lake Tahoe real estate market conditions in more detail or to talk about how we can achieve your real estate goals together.
For Lake Tahoe real estate news, property listings, and events Sign up for our Newsletter.