Tahoe Luxury homes make up 30% of all Single-Family Home Sales in 2019!
February 2019 just set the single month snowfall record for Lake Tahoe with over 300″ of snow (that's 25 FEET) reported at Squaw Valley Alpine Meadows! As you can imagine, the massive snowfalls are having an impact on Lake Tahoe real estate sales as homes are buried, roads have been dangerous to travel on, and buyers are more focused on skiing than shopping for homes. Inventory levels are extremely low, but when desirable homes hit the market they are selling due to pent up buyer demand.
Lake Tahoe Weather Affects Real Estate
Even with the noted weather challenges, the Tahoe real estate market remains resilient and total sales volume for single-family homes is at $171M which is up 18% over last year. As you will see in the year over year statistical comparison below, there is some softness in the market but this is mostly due to the negative effects of a massive winter with record snowfall.
Moving into March I will be keeping my eye on the number of home sales, sales of $1M+ homes, and new inventory coming on the market. I expect that in Q2 we will see an increase in inventory and buyer demand should gobble up these homes. The sales metrics appear slightly soft at this time, but I anticipate that as the snow recedes in the spring, we will return to healthy market conditions. At this point, I see no signs of weak demand, only weather-related issues and inventory constraints which show me that we are off to a great start.
Year over Year Lake Tahoe, CA Real Estate Market Conditions and Value Trends
January – February 2019 Statistics
106 Single Family Home Sales Down 11%
Avg. Marketing Time: 84 Days Down 2%
Avg. List to Sold Discount: 4.6% Up 4%
Total Sales Volume: $171M Up 18%
Average Price: $1.6M Up 26%
Median Price: $735K Up 10%
2 REO & Short Sales Even
1 Sale Below $300K Down 50%
32 Sales over $1M Down 16%
13 Sales over $3M Up 23%
High Sale Price: $37M Up 76%
Low Sale Price: $175K Down 19%
January – February 2018 Statistics
119 Single Family Homes
Average Marketing Time: 86 Days
Avg. List to Sold Discount: 4.4%
Total Sales Volume: $141M
Average Price: $1.18M
Median Price: $660K
2 REO & Short Sales
2 Sales Below $300K
38 Sales over $1M
10 Sales over $3M
High Sale Price: $8.8M
Low Sale Price: $215K
Lake Tahoe Real Estate February 2019 Market Report Highlights
Year over year dollar volume is up 18%
Luxury home sales account for 30% of all sales in 2019
Median home price is up 10% to $735,000
High sale for 2019 is a $37M Tahoe City lakefront, Oliver Luxury Real Estate represented the buyer
7 Martis Camp luxury homes have sold in Jan/Feb with an average price of $4.9M
Lake Tahoe Real Estate February 2019 Market Report Sales Chart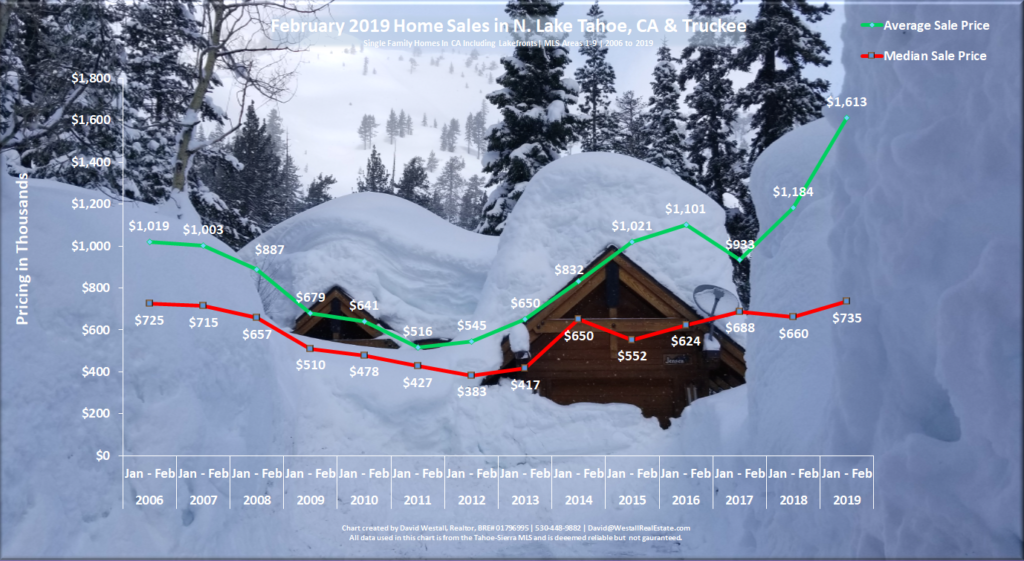 Lake Tahoe Real Estate February 2019 Sales Volume Chart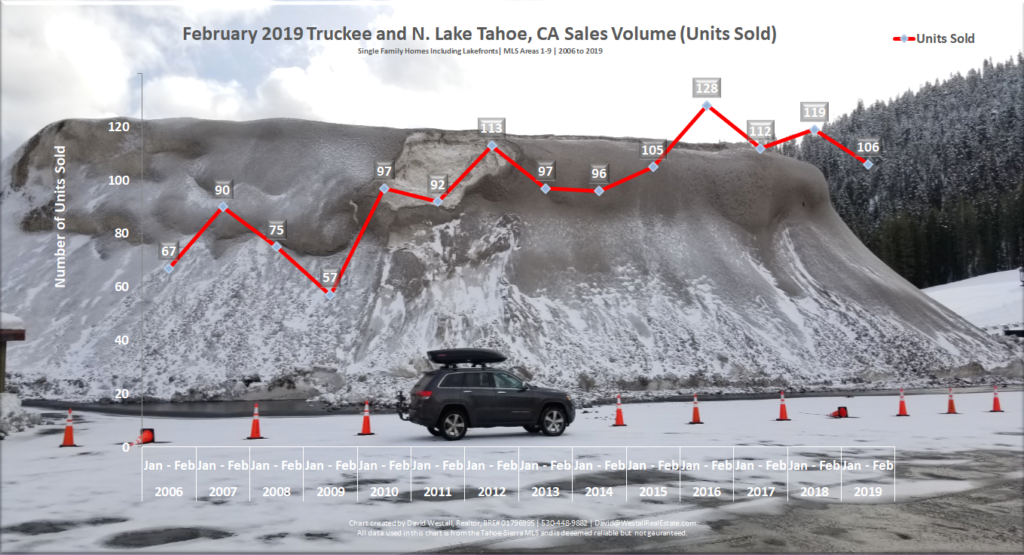 *North Lake Tahoe, CA and Truckee Single-Family Home sales including lakefronts. Data is taken from the Tahoe-Sierra Board of Realtors, MLS Areas 1-9.
Lake Tahoe Real Estate Market Report Archive
Contact Dave Westall – Lake Tahoe Real Estate Agent
Do you have questions about Lake Tahoe Real Estate? Please call me at (530) 448-9882 if you would like to discuss Lake Tahoe real estate market conditions in more detail or to talk about how we can achieve your real estate goals together.
For Lake Tahoe real estate news, property listings, and events Sign up for our Newsletter.

(Visited 255 times, 1 visits today)