February Posted Strong Closed Sales and Current Pending Sales Point Towards a Robust Finish to Q1
Lake Tahoe Real Estate February 2020 Market Report A mild winter has provided the North Lake Tahoe real estate markets with an increase in buyer activity as evidenced by an 11% increase in single-family home sales over last year. Buyers are more apt to tour homes and make an offer when they can see the grounds of a home, which was difficult in 2019. Sellers that decided to keep their homes on the market this winter have been rewarded as there is minimal listing competition and increased buyer activity which has resulted in solid market performance in the first 2 months of Q1.
The median single-family home price is holding even over last year due to the high number of $1M+ homes trading hands. The average home price is off substantially (-33%) as we've seen a major decrease of $3M+ home sales in 2020 and last year we saw an outlying $37M lakefront sale in January, which has skewed the average home price data point. This outlying sale has also skewed the total sales volume which appears to be down 33%, but if you remove the $37M sale, we are only off by $6M or 5% from 2019. It's amazing how 1 ultra-luxury home sale can have such an impact on market statistics, which is why it's important to dig deep when evaluating market conditions. The decrease in $3M+ sales is a direct result of constrained inventory and many overpriced homes occupying that space which is why the average marketing time for $3M+ listings is 258 days.
Pending Sales Exceed January and February Sales Volume
Currently, there are 110 pending single-family homes (up 29% from January) in the Tahoe-Sierra MLS with an average price of $1.34M and a median price of $758K. There are 9 Martis Camp luxury homes in escrow with a high price of $9.8M and there are a total of 37 homes over $1M in escrow. This is a fantastic indicator of how the first quarter is going to finish as we are looking at $148M in potential sales, which is more than the total sales volume over the last 2 months. The market is well-positioned to have a robust Q1 performance.
Year over Year Lake Tahoe, CA Real Estate Market Conditions and Value Trends
Jan – Feb 2020 Statistics
118 Single Family Home Sales Up 11%
Avg. Marketing Time: 91 Days Up 9%
Avg. List to Sold Discount: 4.7% Up 2%
Total Sales Volume: $127M Down 25%
Average Price: $1.08M Down 33%
Median Price: $723K Even
2 REO & Short Sales Even
0 Sales Below $300K Down 300%
33 Sales over $1M Down 3%
6 Sales over $3M Down 43%
High Sale Price: $7.6M Down 78%
Low Sale Price: $310K Up 44%
Jan – Feb 2019 Statistics
105 Single Family Homes
Average Marketing Time: 83 Days
Avg. List to Sold Discount: 4.6%
Total Sales Volume: $170M
Average Price: $1.6M
Median Price: $725K
2 REO & Short Sales
3 Sales Below $300K
34 Sales over $1M
13 Sales over $3M
High Sale Price: $37M
Low Sale Price: $175K
March Sales Off to a Positive Start Despite Uncertainty
In March, we have seen 27 homes go into escrow as of 03/10/2020 with an average price of $1.15M and a high price of $4M. This is significant as these deals came together during a turbulent time for the stock market amidst the uncertainty of the Coronavirus (COVID-19) epidemic. Closed sales are a lagging indicator or market conditions as the sales that take place today went into escrow 30-60 days ago and are just now closing. The pending sales that we see today will possibly close in the next 30-60 days and will then become a data point to analyze. As the weeks unfold I will continue to track the market to determine the implications of the unsettled stock market and COVID-19 epidemic.
As of now, we have yet to see widespread negative effects from COVID-19 in the Tahoe marketplace but I've had multiple conversations with clients over the last few weeks as they are concerned about the stock market and what COVID-19 will do to Tahoe real estate pricing. We are currently experiencing solid market conditions with buyer demand exceeding the supply of inventory, mortgage interest rates are at a near 50 year low which is creating incredible opportunities to leverage purchases and we are just starting to enter the spring selling season. If uncertainty remains present in the coming months there will be a larger shift in power from sellers to buyers, but for now, March is off to a great start and Q1 2020 has the potential to outpace Q1 2019.
Purchasing Tahoe Real Estate is an Investment in Lifestyle
Tahoe is a spiritual place, a sanctuary for health and wellness, and many Bay Area families purchase homes in Tahoe as its an investment in family, a way to escape the fast pace of city life and enjoy all that the mountains have to offer. During the last recession and when volatility is present in the stock market, people are looking to get money out of the equity markets and purchase tangible assets that have a track record for appreciation. Tahoe real estate is not only a secure investment in lifestyle but historically has been a solid play for long-term appreciation and a way to create lasting memories with friends and family.
Lake Tahoe Real Estate February 2020 Market Report Sales Chart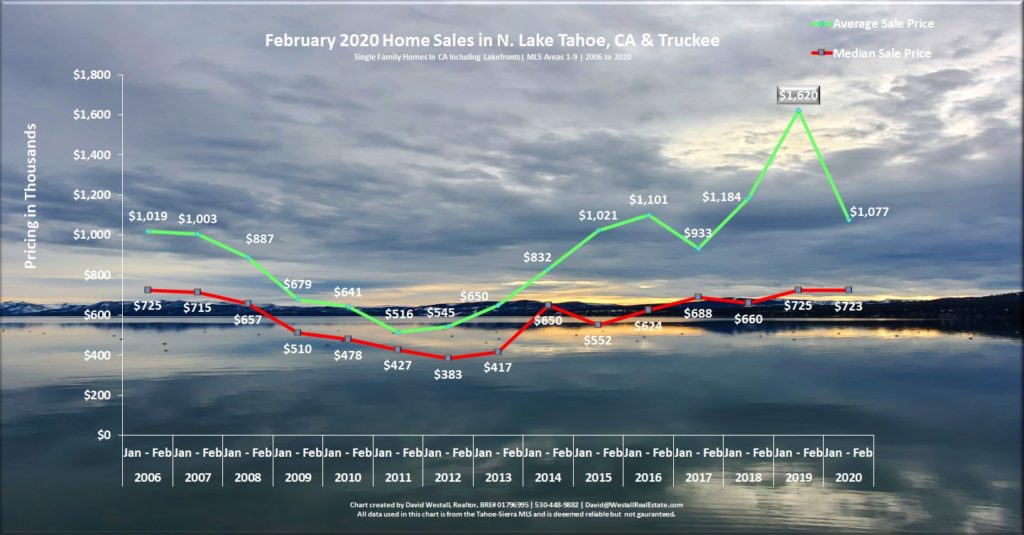 Lake Tahoe Real Estate February 2020 Sales Volume Chart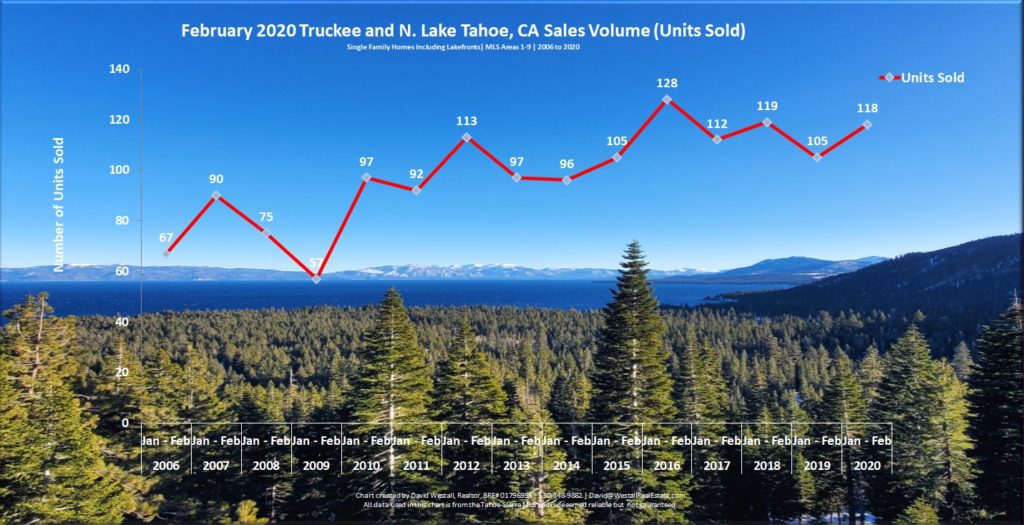 *North Lake Tahoe, CA and Truckee Single-Family Home sales including lakefronts. Data is taken from the Tahoe-Sierra Board of Realtors, MLS Areas 1-9.
Lake Tahoe Real Estate Market Report Archive
Contact Dave Westall – Lake Tahoe Real Estate Agent
Do you have questions about Lake Tahoe Real Estate? Please call me at (530) 448-9882 if you would like to discuss Lake Tahoe real estate market conditions in more detail or to talk about how we can achieve your real estate goals together.
For Lake Tahoe real estate news, property listings, and events Sign up for our Newsletter.