Tahoe Luxury Real Estate Sales Set Records in 2018
July 2018 was an amazing month for North Lake Tahoe, CA and Truckee real estate sales further solidifying the demand for Lake Tahoe real estate. The total dollar volume for single-family homes is at $706M which is a 30% increase over 2017! This is simply incredible and puts us on pace to have another record-breaking year. This voluminous increase in dollar volume is due to the fact that luxury home sales are up 35% over last year and the sale of $3M+ homes is up 47%. So far in 2018, we have seen 3 record-breaking lakefront sales:
2380 Sunnyside Lane, Tahoe City, CA sold for $40M (Listed by Oliver Luxury Real Estate)
1870 North Lake Blvd, Tahoe City sold for $22.8M (Oliver Luxury Real Estate Buyer Rep.)
Year over Year Lake Tahoe, CA Real Estate Market Conditions and Value Trends
July 2018 Statistics
545 Single Family Home Sales Up 8%
Avg. Marketing Time: 69 Days Down 13%
Avg. List to Sold Discount: 3.8% Up 5%
Total Sales Volume: $706M Up 30%
Average Price: $1.296M Up 24%
Median Price: $728K Up 9%
4 REO & Short Sales Down 64%
6 Sales Below $300K Down 65%
165 Sales over $1M Up 35%
47 Sales over $3M Up 47%
High Sale Price: $40M Up 63%
Low Sale Price: $199K Up 30%
July 2017 Statistics
502 Single Family Homes
Average Marketing Time: 79 Days
Avg. List to Sold Discount: 3.6%
Total Sales Volume: $497M
Average Price: $989M
Median Price: $664K
11 REO & Short Sales
17 Sales Below $300K
108 Sales over $1M
25 Sales over $3M
High Sale Price: $15M
Low Sale Price: $140K
Demand Exceeds Supply in the Tahoe Real Estate Markets
Lack of inventory still plagues most neighborhoods/price points and although there are many homes for sale, when you search in specific neighborhoods for inventory there are typically only a few options. It doesn't matter if you have a budget of $20M or $500,000 as there is not enough inventory to satisfy demand making this a great time to be a seller and a challenging time for buyers. When quality homes hit the market they are selling quickly, for top dollar, and often with multiple offers, especially in the sub $700K price points.
The volatility in equity markets has prompted many wealthy buyers to purchase "safe assets" such as luxury real estate. In Tahoe, we have seen a 35% increase in sales volume in the luxury segment as many buyers are pulling cash out of the equity markets and purchasing tangible assets such as lakefronts, golf course homes, and vacation homes. Prime Lake Tahoe and Truckee real estate is in high demand and is pulling up the entire market. When you throw low inventory into the mix with high buyer demand, we have a recipe for robust market conditions.
Lake Tahoe Real Estate Market Report July 2018 Highlights
Year over year dollar volume is up 30%
Oliver Luxury Real Estate sets a record with the sale of a $40M lakefront sale in Tahoe City
Luxury home sales account for 30% of all sales in 2018
Median home price is up 9%
Marketing times are down 13% to an average of 69 days
Lake Tahoe Real Estate Market Report July 2018 Sales Chart
Year Over Year Lake Tahoe Real Estate Sales Volume Chart July 2018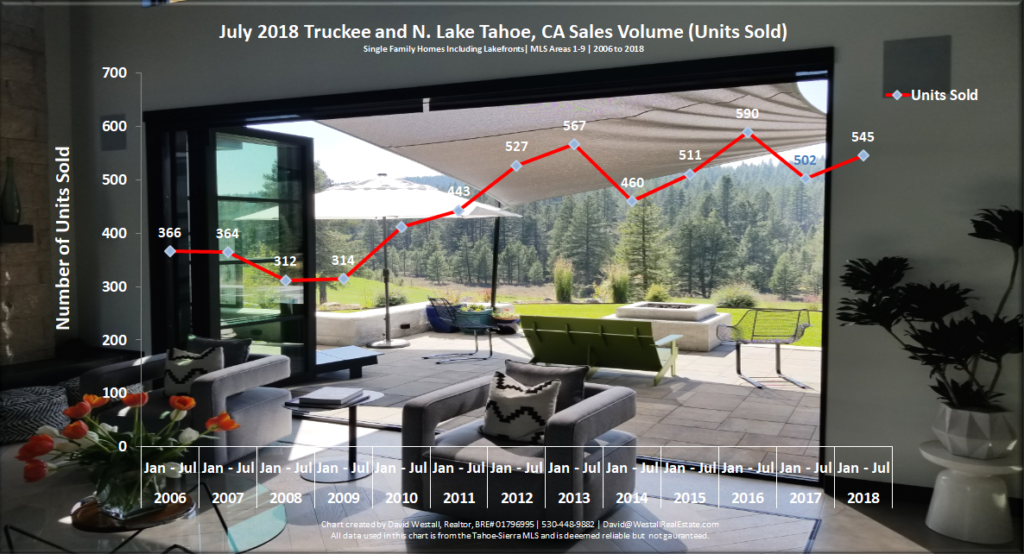 *North Lake Tahoe, CA and Truckee Single Family Home sales including lakefronts. Data is taken from the Tahoe-Sierra Board of Realtors, MLS Areas 1-9.
Lake Tahoe Market Report Archive
July 2017 Lake Tahoe Market Report
Do you have questions about Lake Tahoe Real Estate? Please call me at (530) 448-9882 if you would like to discuss Lake Tahoe market conditions in more detail or to talk about how I can help you achieve your real estate goals.
For Lake Tahoe real estate news, property listings, and events Sign up for our Newsletter.