Average Home Price Continues to Rise Amid an Inventory Constrained Market
Highlighted by a 40% increase in the median sales price, it's clear that 2021 has been a spectacular year for Tahoe real estate sales. In 2020, we saw more units trade hands, however, the average price of homes is up significantly year over year. This means that even though the number of home sales is down 24% in 2021, the actual dollar volume is up 2% and is approaching $2B! This is significant, as 2020 was the first time that the North Tahoe real estate market has ever exceeded $2B in single family sales and we are on pace to outperform 2020 and set a new dollar volume record, even if unit volume is down.
Lake Tahoe Real Estate Market Report November 2021 Highlights
Average Marketing Time = 26 Days Down 15%
Median Home Price = $1.175M Up 25%
45% of sales in November were priced over $1M
Dollar Volume from October to November Up 15%
YTD: 664 sales over $1M Up 23%
YTD: 118 sales over $3M Up 11%
Low Inventory Creates an Extreme Seller's Market
Inventory remains shackled and currently there is only a 22 day supply of homes for buyers to purchase, indicating an extreme seller's market. Buyers are looking to purchase good quality homes, so when new inventory hits the market, we continue to see these homes sell quickly and bidding wars remain common. If we had more inventory, I have no doubt that we would have exceeded the number of units sold in 2020 as buyer activity remains robust.
Inversely, we have seen quite a few properties priced beyond the current market and unfortunately, these homes tend to linger and receive price reductions before purchases take place. Although the market is robust, buyers can see through over-aggressive pricing models and they are happy to wait for better opportunities to present themselves.
Year over Year Market Conditions and Value Trends
November 2021 Statistics
93 Single Family Home Sales

Down 44%

Marketing Time: 26 Days

Down 4%

List to Sold Ratio: 97%

Up 4%

Total Sales Volume: $141M

Down 43%

Average Price: $1.51M

Up 2%

Median Price: $1.175M

Up 25%

0 REO & Short Sales

Even

0 Sales Below $400K

Down 100%

51 Sales over $1M

Down 31%

8 Sales over $3M

Down 47%

High Sale Price: $6.3M

Down 37%

Low Sale Price: $512K

Up 77%
November 2020 Statistics
167 Single Family Home Sales
Marketing Time: 27 Days
List to Sold Ratio: 96%
Total Sales Volume: $249M
Average price: $1.48M
Median Price: $941K
0 REO & Short Sales
4 Sales Below $400K
74 Sales over $1M
15 Sales over $3M
High Sale Price: $10M
Low Sale Price: $290K
Lake Tahoe Real Estate November 2021 Market Report Sales Chart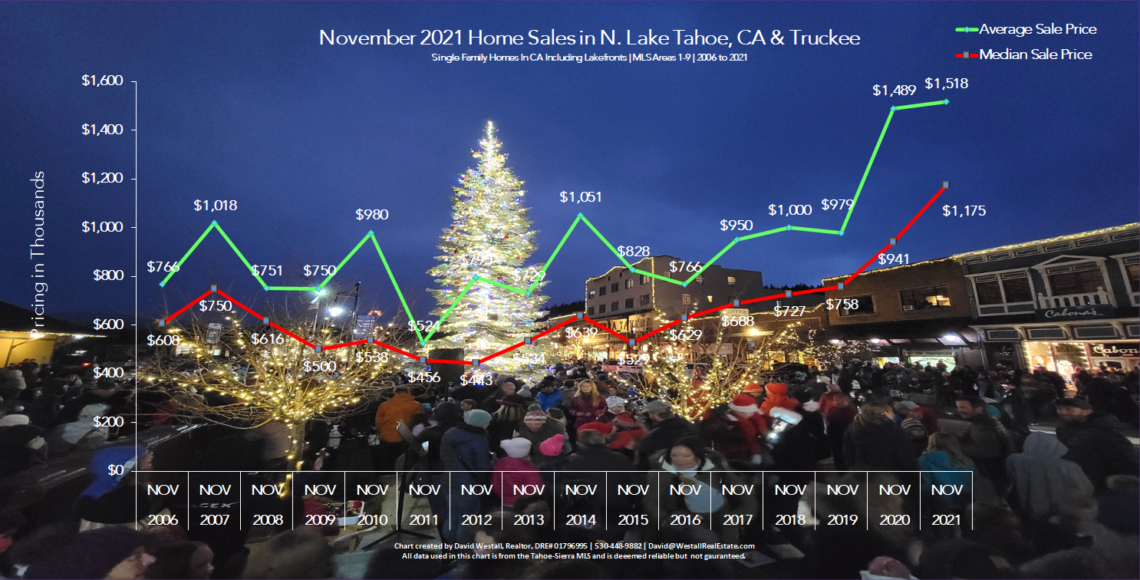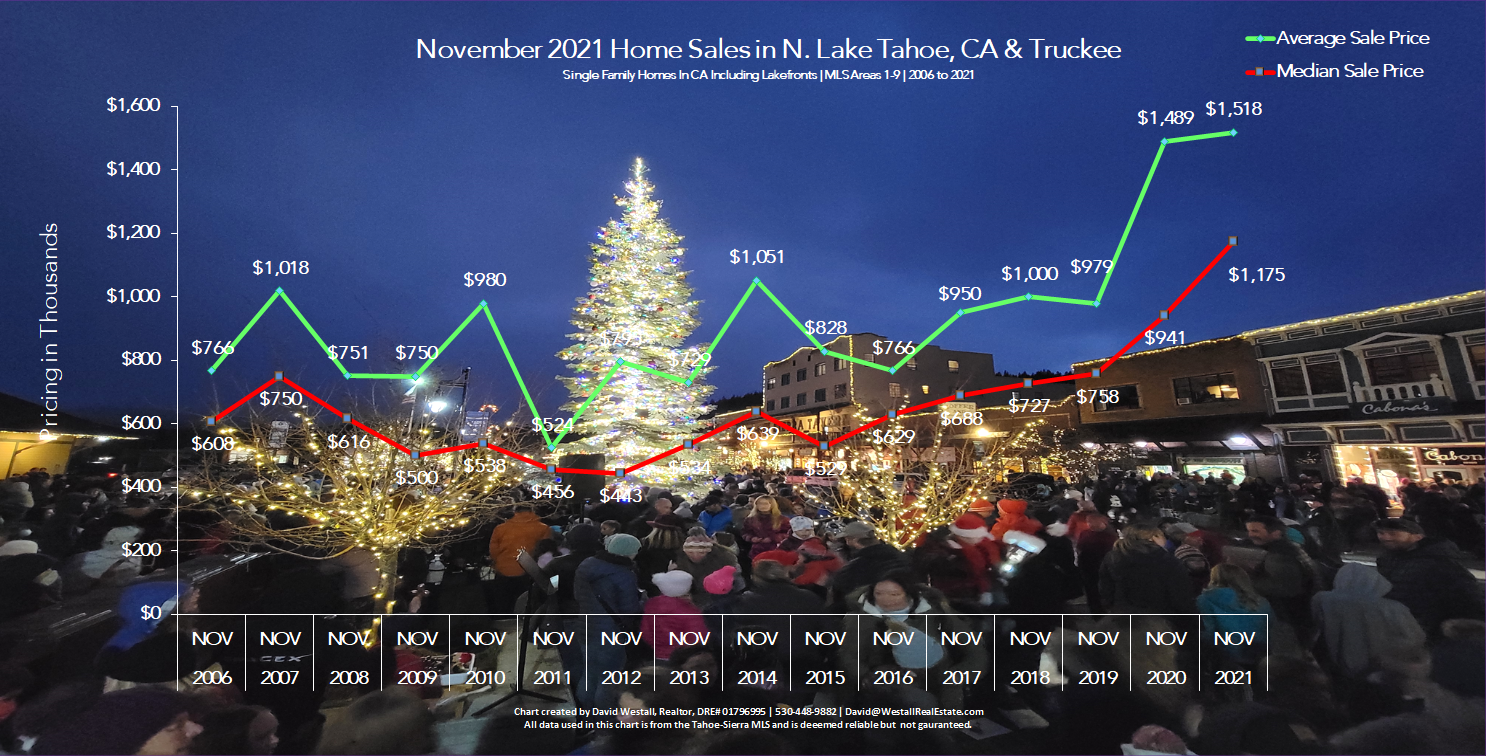 Lake Tahoe Real Estate November 2021 Sales Volume Chart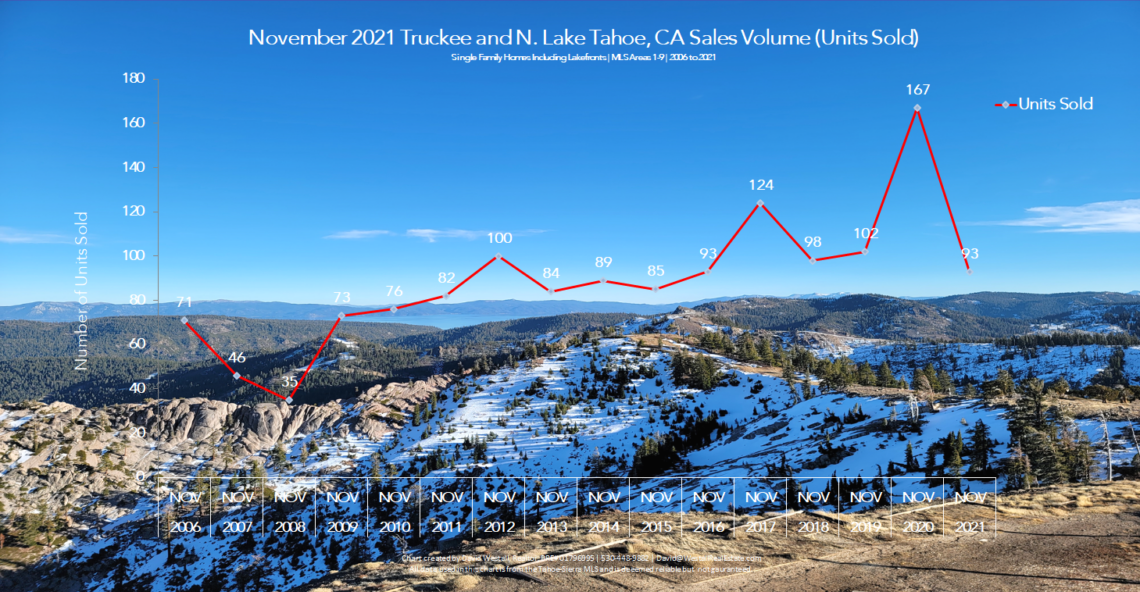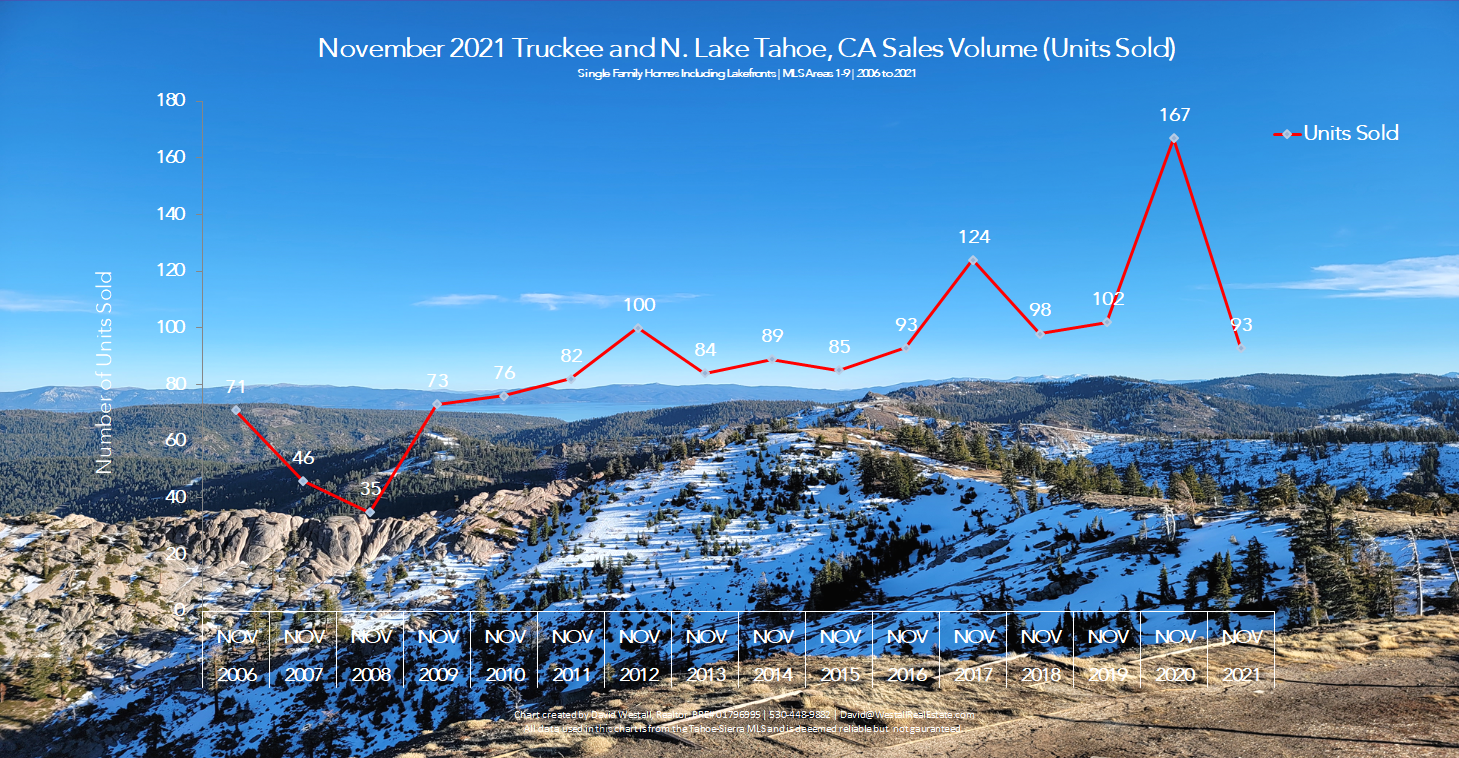 *North Lake Tahoe, CA and Truckee Single-Family Home sales including lakefronts. Data is taken from the Tahoe-Sierra Board of Realtors, MLS Areas 1-9.
Absorption Rate: Only 22 Days of Inventory = Extreme Seller's Market
The term absorption rate refers to a metric used in a specific real estate market to evaluate the rate at which available homes are sold during a given period of time. Here are the metrics and absorption rate for the North Lake Tahoe, CA and Truckee real estate market.
Absorption Rate (single-family homes)
797 Sales in the Last 6 Months
133 Sales per Month
4.4 Sales Per Day
97 Active Listings
97 Listings / 4.4 Sales Per Day = 22 Days of Inventory
>2 Months of Inventory = Strong Seller's Market

High Rates of Appreciation and Regular Multiple Offer Situations

1 to 3 Month Supply of Inventory = Seller's Market
4- 6 Months of Inventory = Balanced Market
6+ Months of Inventory = Buyer's Market
Currently, there are 115 pending homes in escrow with an average list price of $2.2M and a median list price of $1.4M, which shows that the market remains bullish as pricing continues to rise in this inventory-constrained market.
When Will the Lake Tahoe Real Estate Market Slow Down?
To stabilize the market, we need 4-6 months of inventory or a total of 532 active listings. Currently, we have 22 Days of inventory, which means that we need 435 new single-family listings to achieve stabilization. Inventory is coming on the market at a painfully slow rate, and we are no were close to having supply and demand in equilibrium, which means that the market will remain competitive for the foreseeable future.
During the winter months, we typically see inventory hit the lowest levels of the year. With winter quickly approaching, it does not seem that market stabilization will take place in the near term, and it's unlikely that stabilization will take place within the next 6-10 months.
The Time to Sell is Now
If you're considering selling your Tahoe/Truckee property, buyer demand is feverish, and inventory is constrained, creating an opportunistic time to sell your home and likely generate a record sale in your neighborhood. If you were to list your Tahoe home for sale now, all eyes would be on your property and you would have little competition in the market, which will inevitably help you achieve your goals. If selling your home is a consideration, let's chat so that we can review your goals and discuss my proven marketing plan that will ensure the success of your property.
Lake Tahoe Real Estate Market Report Archive
View All Tahoe Real Estate Market Reports
November 2020 Real Estate Market Report
November 2019 Real Estate Market Report
Contact Dave Westall – Lake Tahoe Real Estate Agent
As the premier Tahoe Realtor, I'm here to help, provide insight, and help you achieve your real estate goals. Let's schedule a Zoom meeting to chat and discuss how I can be of assistance.
For Lake Tahoe real estate news, property listings, and events Sign up for our Newsletter.