A Severe Tahoe Winter and Limited Inventory Caused a Slowdown in Q1 2019
The severe winter of 2019 brought over 55 feet of snow to Squaw Valley and has caught up with the Lake Tahoe real estate markets causing a rough finish to Q1. The quarter started off strong but the heavy snows kept buyers at bay and constrained inventory levels took a toll on the market leading to a 22% decrease in units sold. The lack of inventory caused the median home price to dip 5% in March after being up 10% in February. With that noted, the average home price is up 15% (a record hight) and the median home price is up 4% over 2018, so things aren't all that bad, we are just dealing with the ramifications of a record setting winter. It turns out that buyers need inventory to purchase homes and when there is 6 to 10 feet of snow on the ground it slows the market down.
Lake Tahoe Real Estate Q1 2019 Market Report Highlights
Year over year dollar volume is up 18%
Luxury home sales account for 28% of all sales in Q1 2019
Median home price is up 4% to $730,000 and the Average home price is up to $1,445,000 to a record high
High sale for 2019 is a $37M Tahoe City lakefront, Oliver Luxury Real Estate represented the buyer
10 Martis Camp luxury homes have sold in Q1 with an average price of $5M
Lake Tahoe Real Estate Inventory Should Steadily Rise in the Coming Months
As the snow recedes in N. Lake Tahoe this spring, I anticipate a solid increase of inventory during the first half of Q2. I'm already working with a number of sellers to prepare their homes to hit the market and I know quite a few other agents that are also working to bring homes on the market within the next 45 to 60 days. This increase in inventory will be well received by buyers looking to get into the Tahoe homes before the 4th of July holiday.
Lake Tahoe Buyers are Ready for More Inventory
Buyers are coming off a fun filled winter and as we've seen in the past, when the fun meter is pinned all winter, people want to keep that train rolling which often leads to strong market activity in Q2. If for some reason we see continued signals of weakness as we hit the start of summer, then we might be in for a rough ride in 2019. I do not see that happening as there is pent up buyer demand and even though some market indicators are off, I think we are on the right track for a good year of real estate sales.
Year over Year Lake Tahoe, CA Real Estate Market Conditions and Value Trends
Q1 2019 Statistics
153 Single Family Home Sales Down 22%
Avg. Marketing Time: 85 Days Up 1%
Avg. List to Sold Discount: 4.9% Up 18%
Total Sales Volume: $221M Down 6%
Average Price: $1.4M Up 15%
Median Price: $700K Up 4%
2 REO & Short Sales Down 33%
5 Sales Below $300K Up 20%
43 Sales over $1M Down 35%
15 Sales over $3M Down 12%
High Sale Price: $37M Up 76%
Low Sale Price: $175K Down 19%
Q1 2018 Statistics
197 Single Family Homes
Average Marketing Time: 84 Days
Avg. List to Sold Discount: 4 %
Total Sales Volume: $236M
Average Price: $1.19M
Median Price: $675K
3 REO & Short Sales
4 Sales Below $300K
66 Sales over $1M
17 Sales over $3M
High Sale Price: $8.8M
Low Sale Price: $215K
Lake Tahoe Real Estate Q1 2019 Market Report Sales Chart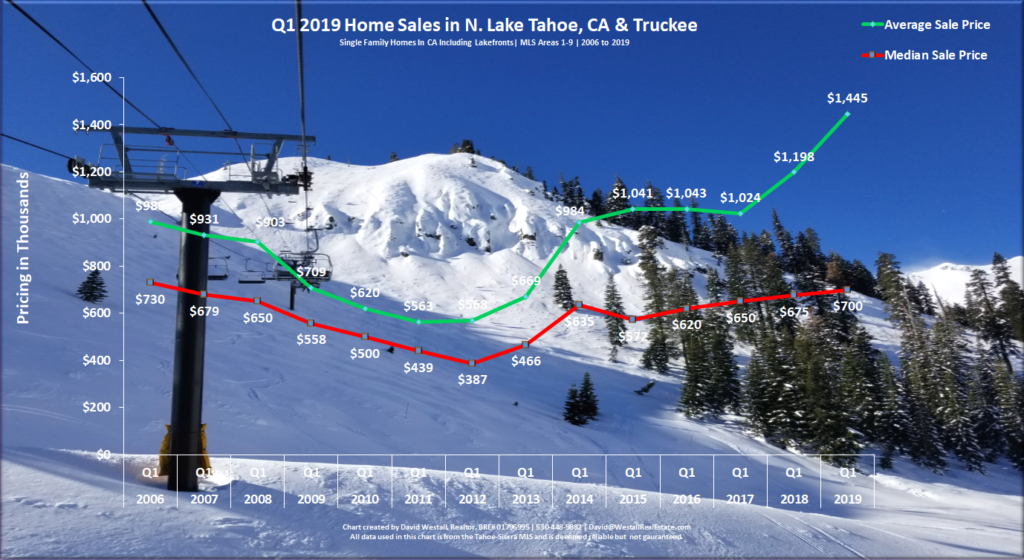 Lake Tahoe Real Estate February 2019 Sales Volume Chart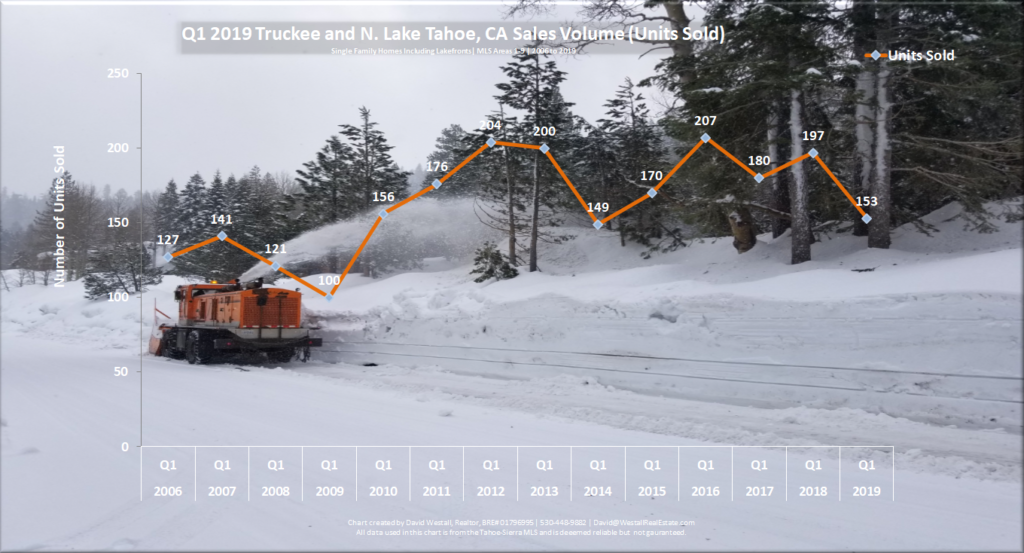 *North Lake Tahoe, CA and Truckee Single-Family Home sales including lakefronts. Data is taken from the Tahoe-Sierra Board of Realtors, MLS Areas 1-9.
Lake Tahoe Real Estate Market Report Archive
Contact Dave Westall – Lake Tahoe Real Estate Agent
Do you have questions about Lake Tahoe Real Estate? Please call me at (530) 448-9882 if you would like to discuss Lake Tahoe real estate market conditions in more detail or to talk about how we can achieve your real estate goals together.
For Lake Tahoe real estate news, property listings, and events Sign up for our Newsletter.