Buyers Are Hungry for Inventory in Q1
The first quarter of North Lake Tahoe and Truckee real estate sales is complete and we are looking pretty good given the fact that we are just digging out of a historic winter. Buyer activity was off 15% in Q1 which is not surprising as inventory was at a historical low. We also received 279" of snow in January, over 200" in February which closed I-80 for multiple days and crippled the local roadways. So far this winter North Lake Tahoe has received 654" of snow at the 8,000' elevation which is 13 feet more than we received during the entire 2016 winter season!
During the first quarter, buyer activity remained strong although inventory was at a historic low which lead to a 5% rise in the median home price. We have seen a reduction in distressed sales and the lower level price points are extremely competitive which is making it difficult for first-time buyers and people looking to purchase in the sub $600K price points.
Currently, there are 97 homes under contract with 23 homes priced above $1M which shows that the North Lake Tahoe markets are heating up going into the summer selling season. The high number of luxury home escrows shows me that the luxury market remains solid and will continue to pull the other market segments up as the year progresses. Oliver Luxury Real Estate recently closed escrow on the historic Drum Estate for $28.9M, representing both the buyer and seller of this historic West shore lakefront estate.
Lake Tahoe is Full
Lake Tahoe is FULL and the current lake level is at 6,227.26' which is 4.26' above the natural rim and only 1.74' away from the legal limit of 6,229'. The Tahoe City Dam is currently releasing 723 cubic feet of water per second into the Truckee River! A full lake drives demand for lakefront properties and increases recreation activity at Lake Tahoe which is a positive for the real estate market. A full lake and memories of a historic winter will help bolster the Tahoe real estate markets.
If you are considering selling your Tahoe property I would recommend listing now or early in the spring. There will be minimal competition and buyers are eager for new inventory which will help you sell your property quickly and for top dollar.
Year over Year Market Conditions and Value Trends
Q1 2017 Statistics
175 Single Family Home Sales Down 15%
Avg. Marketing Time: 109 Days Dwn 12%
Avg. List to Sold Discount: 5.1% Up 22%
Average Price: $1.037 Even
Median Price: $655K Up 5%
3 REO & Short Sales Down 40%
7 Sale Below $300K Even
38 Sales over $1M Down 28%
9 Sales over $3M Down 47%
High Sale Price: $15M Up 53%
Low Sale Price: $155K Down 27%
Q1 2016 Statistics
207 Single Family Homes
Average Marketing Time: 124 Days
Avg. List to Sold Discount: 4%
Average Price: $1.044M
Median Price: $620K
5 REO & Short Sales
7 Sale Below $300K
53 Sales over $1M
17 Sales over $3M
High Sale Price: $7.1M
Low Sale Price: $213K
Year Over Year Lake Tahoe Real Estate Sales Chart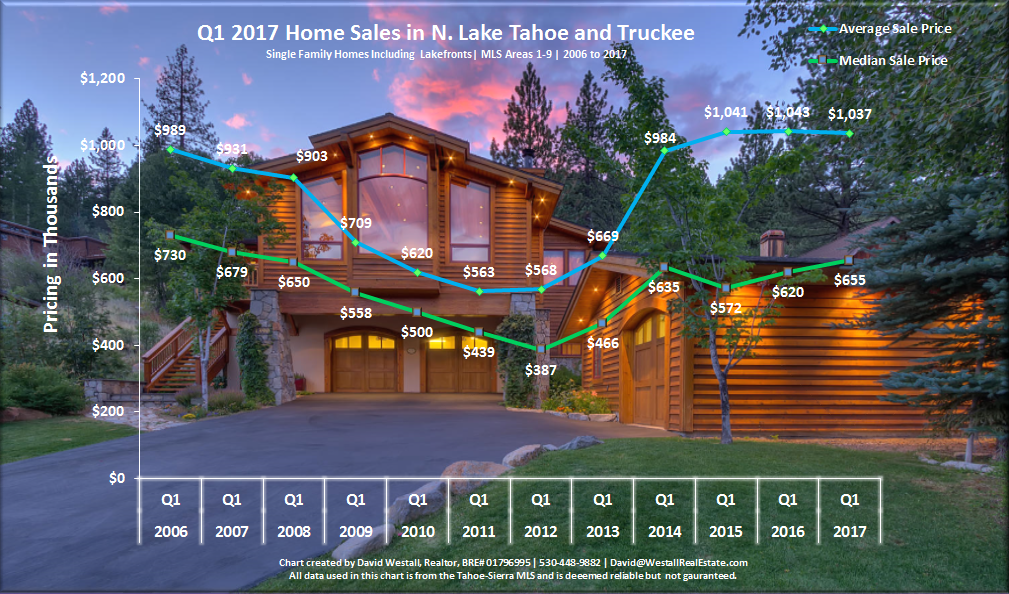 *North Lake Tahoe and Truckee Single Family Home sales including lakefronts. Data is taken from the Tahoe-Sierra Board of Realtors, MLS Areas 1-9.
Year Over Year Lake Tahoe Real Estate Sales Volume Chart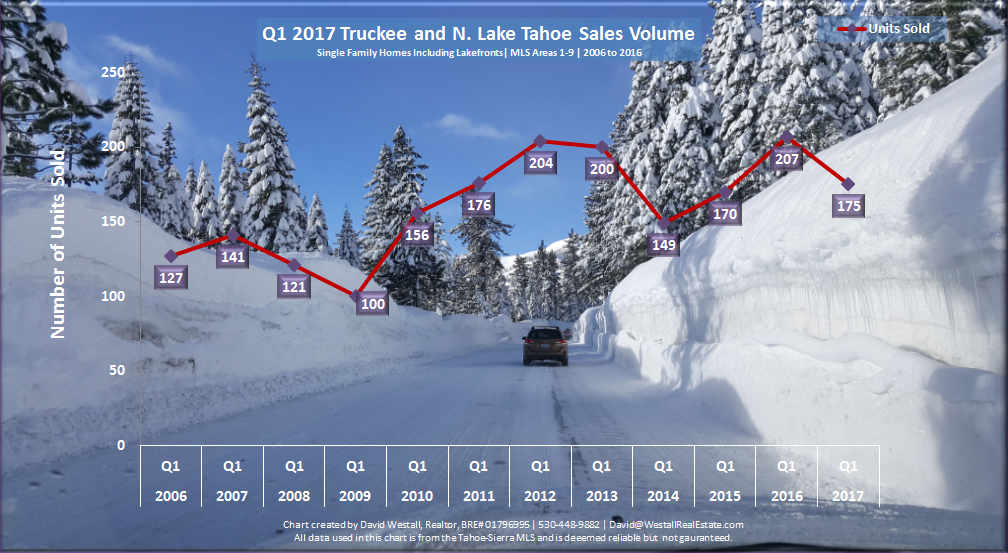 Past Lake Tahoe Market Reports
Do you have questions about Lake Tahoe Real Estate? Please call me (530) 448-9882 if you would like to discuss market conditions in more detail or to talk about how I can help you achieve your real estate goals.

For real estate news, property listings and Lake Tahoe events sign up for our newsletter here.
David Westall, Realtor
OLIVER LUXURY REAL ESTATE
P: 530-448-9882
David@WestallRealEstate.com
CA BRE# 01796995