The Tahoe and Truckee Real Estate Markets Remain Strong in 2015
The first quarter of 2015 is complete and the North Lake Tahoe and Truckee real estate markets remain strong with sales volume up 10% over 2014. Luxury home sales ($1M+) are the dominant factor in the Tahoe markets and account for 45% of the total dollar volume in the first quarter. There were 12 sales over $3m in Q1 which is a 50% increase over 2014 and shows the strength in the higher end of the market. The demand for Tahoe luxury real estate should remain strong throughout 2015 and we anticipate some record-breaking sales in this segment.
A lack of inventory in the $400K to $800K range has skewed the statistical data and has caused the median pricing to show lower than 2014, but the reality is that there is very little inventory in these price points for buyers to purchase. As we push into summer and inventory levels increase, I would guess that the median home price will rise throughout the year. If you look at the median home price over the last 3 years it continues to rise, so I am confident that this trend will continue in 2015. The lack of inventory in the $400K to $800K range has created a great opportunity for sellers as they will get top dollar for their homes. List your home now while competition is low.
Q1 2015 Lake Tahoe Real Estate Market Report Sales Chart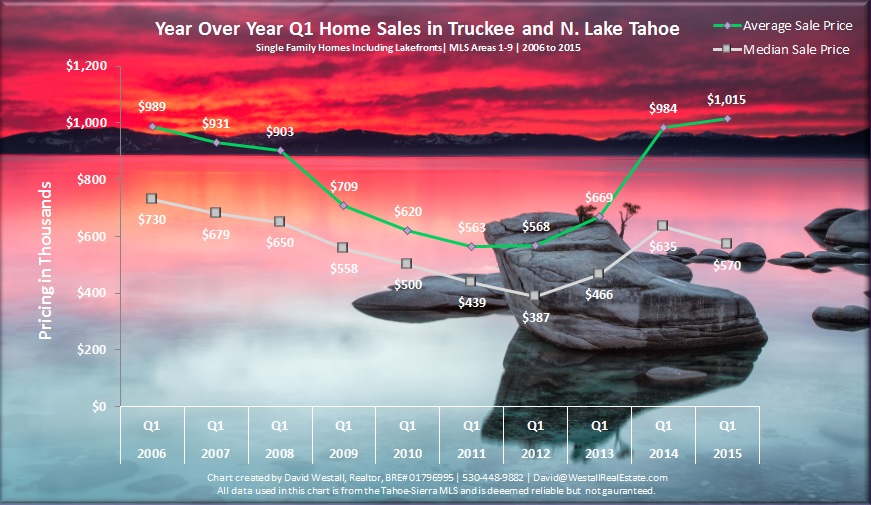 Year over Year Lake Tahoe Real Estate Sales Comparison
Q1 2015 Statistics

Q1 2014 Statistics


167 Single Family Home Sales up 10%
Avg. Marketing Time: 146 Days up 29%
Average Price: $1.015M up 7%
Median Price: $570K down 10%
5 REO & Short Sales down 76%
3 Sales Below $200K up 33%
29 Sales over $1M down 12%
12 Sales over $3M up 50%
High Sale Price: $8.85M down 37%
Low Sale Price: $120K up 37%

149 Single Family Homes
Average Marketing Time: 104 Days
Average Price: $984K
Median Price: $635K
21 REO & Short Sales
2 Sale Below $200K
33 Sales over $1M
6 Sales over $3M
High Sale Price: $14M
Low Sale Price: $76K
*North Lake Tahoe and Truckee Single-Family Homes Including Lakefronts. MLS Areas 1-9
2015 Lake Tahoe Real Estate Market Predictions
Pricing will continue on an upward trend but rise at a slower pace. I am anticipating price increases of 5-10% for single-family homes by year-end.
The luxury segment of the market will remain strong.
Mortgage rates will head higher and will be closer to 5% by the end of 2015.
There will be a rise in new construction starts this year (mostly in Truckee).
Short Sales and Foreclosures will remain a small fraction of sales.
Market rents will increase, especially long-term rental rates.
Contact Dave Westall, Lake Tahoe Luxury Realtor
Are you interested in Lake Tahoe Luxury real estate and homes for sale? Dave Westall is your Lake Tahoe Luxury Real Estate expert and is happy to answer any questions you have. Contact Dave at (530) 448-9882 or David@WestallRealEstate.com.
David Westall, Realtor
OLIVER LUXURY REAL ESTATE
P: 530-448-9882
David@WestallRealEstate.com
CA BRE# 01796995