The First Quarter Showcased Strong Buyer Demand and a Penchant for Luxury Real Estate
Lake Tahoe Real Estate Q1 2020 Market Report: The first quarter of 2020 has come to a close providing us with a snapshot of robust buyer demand, limited inventory, significant sales volume, and athletic performance from the luxury segment. The volume of single-family home sales was up 12% over Q1 2019 and even as California was ordered to Shelter in Place due to the Covid-19 pandemic, we saw buyers closing deals and opening new escrows at an energetic clip.
Lake Tahoe Real Estate Market Report Q1 2020 Highlights
50 Luxury Home Sales over $1M, 9 Sales Over $4M, and 4 Sales Over $6M
10 Martis Camp home sales, Average Price = $4.6M
57 Single Family Home Sales in March, up 11%
Q1 Home Sales up 11% over 2019
71 Homes in Escrow, Average Price = $1,190,000, Median Price = $720,000
16 New Escrows in the Last 2 Weeks Amid Covid-19 Pandemic
In addition to strong sales volume in Q1, we have witnessed a significant amount of new escrows. Closed sales are a lagging indicator of the health of the market as a closed sale today represents an escrow that was opened between 30 and 60 days prior. New escrows are especially important as they will provide closed sales in the days, weeks and months ahead. Today as I write this report there are 134 properties in escrow in the Tahoe-Sierra Board of Realtors MLS which represents N. Lake Tahoe, CA, and Truckee. 54 new escrows were opened in March, which is fantastic considering that the Covid-19 pandemic came to the forefront of California life in March and the Shelter in Place order was issued on 03/19/2020.
March 2020 Real Estate Highlights
57 Single Family Home Sales = $75M in Volume (Dollar Volume Up 30% over March 2019)
Average Price = $1.33M (Up 21% over March 2019)
Median Price = $721K (Up 4% over March 2019)
High Sale = $9.5M (Up 21% over March 2019)
10 Sales over $1M (Down 9% over March 2019)
5 Sales over $4M (Up 60% over March 2019)
Year over Year N. Lake Tahoe, CA Real Estate Market Conditions and Value Trends
Q1 2020 Statistics
175 Single Family Home Sales Up 12%
Avg. Marketing Time: 93 Days Up 12%
Avg List to Sold Discount: 4.2% Dwn 11%
Total Sales Volume: $203M Down 9%
Average Price: $1.16M Down 19%
Median Price: $721K Up 1%
2 REO & Short Sales Even
0 Sales Below $300K Down 80%
50 Sales over $1M Up 14%
12 Sales over $3M Down 20%
High Sale Price: $9.5M Down 74%
Low Sale Price: $310K Up 44%
Q1 2019 Statistics
155 Single Family Homes
Average Marketing Time: 82 Days
Avg. List to Sold Discount: 4.7%
Total Sales Volume: $223M
Average Price: $1.43M
Median Price: $715K
2 REO & Short Sales
5 Sales Below $300K
43 Sales over $1M
15 Sales over $3M
High Sale Price: $37M
Low Sale Price: $175K
Lake Tahoe Real Estate Q1 2020 Market Report Sales Chart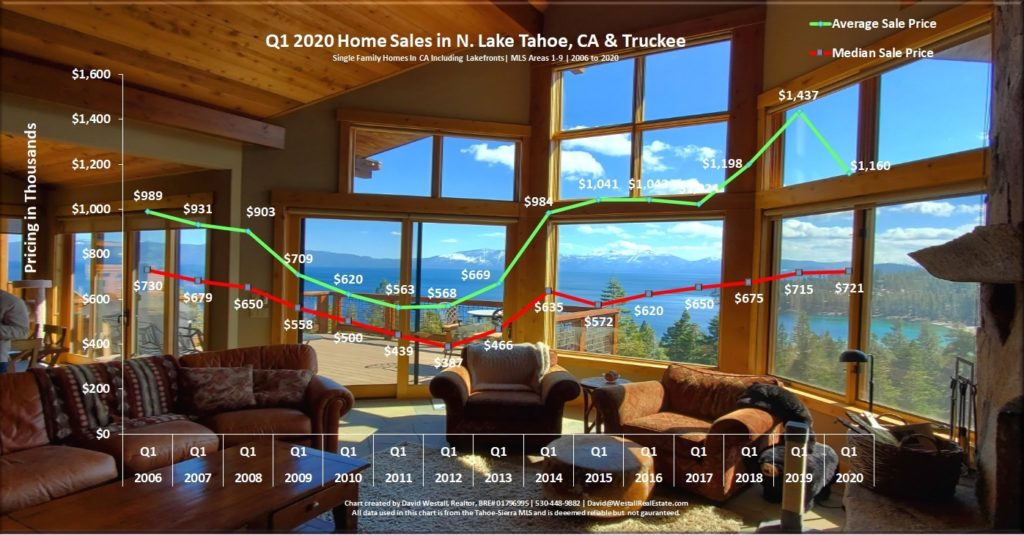 Lake Tahoe Real Estate Q1 2020 Sales Volume Chart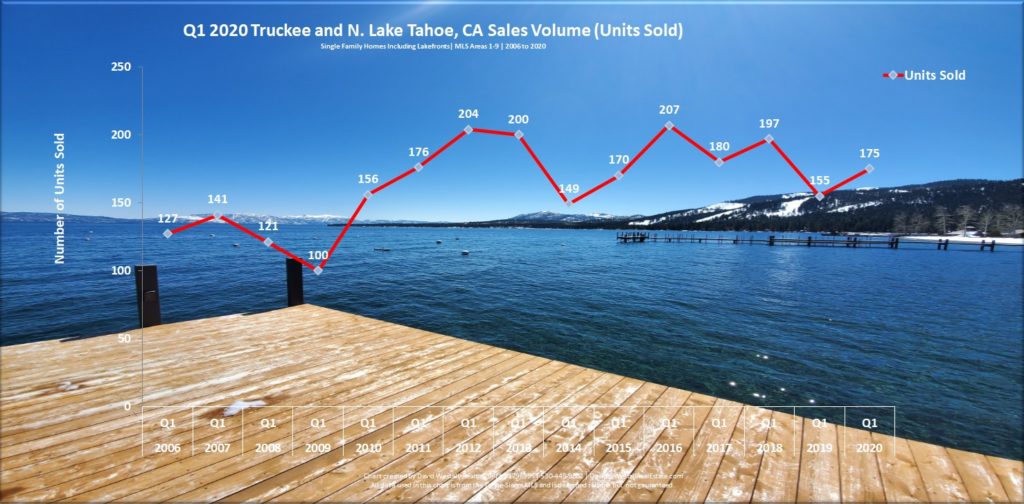 *North Lake Tahoe, CA and Truckee Single-Family Home sales including lakefronts. Data is taken from the Tahoe-Sierra Board of Realtors, MLS Areas 1-9.
The Shelter in Place Order Has Put the Brakes on the Tahoe Real Estate Market
Since the Shelter in Place order was issued, real estate activity has significantly slowed as buyers could not physically tour homes. This week both Placer and Nevada Counties announced that real estate is considered an essential business, which will allow buyer home tours to take place once again. With that noted, I think it will be a while before buyers and agents feel confident in touring homes and being out in public, so I expect that the next 1-2 months will produce a major slowdown of real estate activity.
Although there will be a slowdown in physical buyer activity, the demand for Tahoe real estate remains strong and when the Shelter in Place order is lifted, I expect that pent up demand will return resulting in solid Q3 and Q4 performance. Remember that before this pandemic, buyer demand was strong and inventory was limited which was great for sellers but tough on buyers. The pandemic is exacerbating the limited supply of homes for sale. Strong demand is still present but buyers are waiting on the sidelines to see what happens over the next month. Once the dust settles, I expect demand to ramp up quickly, which is why most financial professionals expect to see a big pop of economic activity in Q3 and Q4.
A Recession Does Not Mean That the Housing Market is Falling Apart
Remember, a recession does not equal a housing crisis and that home values appreciated during 4 of the last 5 recessions. Today, our country is in a significantly better position compared to what we witnessed going into the 2008 Financial Crisis and the strain on the housing market should be less than what we saw in 2008. Here are the top reasons why we should be able to avoid a housing crisis:
There will be fewer foreclosures

More stringent lending practices
CARES Act provides foreclosure protection

New Construction has been scaled back compared to the mid-2000s

Builders have been more conservative, fewer starts and better fundamentals
Builders have built fewer homes to maintain demand and pricing

Renting is more expensive than owning in most metro areas
Mortgage interest rates are at historical lows
Financial professionals agree that this recession should be short-lived and that the economy will rebound quickly
Time is of the Essence for Economic Recovery
As with most things in life, time is the most significant factor. If this pandemic lasts for another month to 2 months we should be able to weather the storm with a swift economic rebound. If the current crisis lasts for 3, 4, 6 months or longer, the chances for a severe economic downturn increase exponentially. This is why social distancing and sheltering in place are critical to the success of our hospitals, first responders and those on the front lines. The faster we get the covid-19 virus under control, the faster we will see an economic recovery. In Tahoe, the summertime is the busiest time of the year for tourism, real estate sales, and overall economic activity. If we see the virus subside in late spring and consumer confidence ramps up in early summer, we expect solid transaction activity in the 3rd and 4th quarters.
We expect to see a brisk return of tourism once the covid-19 virus subsides as many people will prefer driving to destinations over air travel, which should bolster the Tahoe economic recovery. Additionally, this crisis could provide a catalyst for people that were considering moving or purchasing a second home in the mountains over urban life as Tahoe provides for a healthy lifestyle with telecommuting opportunities. This crisis has shown many of us that the possibilities of working remotely are real and that physical office space not required for productivity.
Purchasing Tahoe Real Estate is an Investment in Lifestyle
Tahoe is a spiritual place, a sanctuary for health and wellness, and many Bay Area families purchase homes in Tahoe as its an investment in family, a way to escape the fast pace of city life and enjoy all that the mountains have to offer. During the last recession and when volatility is present in the stock market, people are looking to get money out of the equity markets and purchase tangible assets that have a track record for appreciation. Tahoe real estate is not only a secure investment in lifestyle but historically has been a solid play for long-term appreciation and a way to create lasting memories with friends and family.
Lake Tahoe Real Estate Market Report Archive
Contact Dave Westall – Lake Tahoe Real Estate Agent
Do you have questions about Lake Tahoe Real Estate? Please call me at (530) 448-9882 if you would like to discuss Lake Tahoe real estate market conditions in more detail or to talk about how we can achieve your real estate goals together.
For Lake Tahoe real estate news, property listings, and events Sign up for our Newsletter.