Lake Tahoe Real Estate Prices Continue to Rise in Q1
The first quarter of 2022 has concluded, and the theme of limited inventory and high buyer demand continues within the N. Lake Tahoe CA real estate market. There was a sizeable reduction in the number of sales year over year due to highly constrained inventory, but pricing has jumped significantly over Q1 2021, evidenced by a 25% jump in the average home price, which now sits at a staggering $2.3M. Most neighborhoods have little-to-no inventory, so when new listings hit the MLS, buyers are eagerly lining up with their best offers in hand, which continues to push pricing higher.
Lake Tahoe Real Estate Market Report Q1 2022 Highlights
Record Setting Luxury Home Sales in Q1
Q1 is traditionally a slower time of year for Lake Tahoe real estate sales, but since the pandemic started, buyers are eager to purchase Tahoe properties no matter what the season. In the first quarter, an abundance of luxury homes traded hands with 10 sales over $10M (a new record), highlighted by a $23.6M Carnelian Bay Lakefront and a $13M Martis Camp estate. This is remarkable as there have only been 28 single-family home sales in N. Lake Tahoe, CA, above $10M since January 2020, with 55 sales over $10M ever, and 10 of those sales just took place in Q1!
The Median Home Price is Now $1.37M
There were 129 sales over $1M in the first quarter, which propelled the median home price to a new record high of $1,375,000. This is significant as 70% of all sales in Q1 were priced over $1M. It is becoming challenging to find a home in N. Lake Tahoe below $1M, and when they do pop up, the competition can be fierce. In the last year, we have seen a 67% drop in the number of homes priced below $400K. Lower-priced entry-level homes have been challenging to find and difficult to acquire in this competitive market.
Year over Year Market Conditions and Value Trends
Q1 2022 Statistics
184 Single Family Home Sales Down 23%
Marketing Time: 42 Days Down 2%
List to Sold Ratio: 99% Even
Total Sales Volume: $435M Down 4%
Average Price: $2.36M Up 25%
Median Price: $1.38M Up 21%
0 REO & Short Sales Down 100%
2 Sale Below $400K Down 67%
129 Sales over $1M

Down 2%

37 Sales over $3M Up 19%
High Sale Price: $23.6M

Down 24%

Low Sale Price: $330K Up 20%
Q1 2021 Statistics
240 Single Family Home Sales
Marketing Time: 43 Days
List to Sold Ratio: 99%
Total Sales Volume: $452M
Average Price: $1.89M
Median Price: $1.14M
1 REO & Short Sales
6 Sales Below $400K
131 Sales over $1M
31 Sales over $3M
High Sale Price: $31M
Low Sale Price: $275K
Lake Tahoe Real Estate Q1 2022 Market Report Sales Chart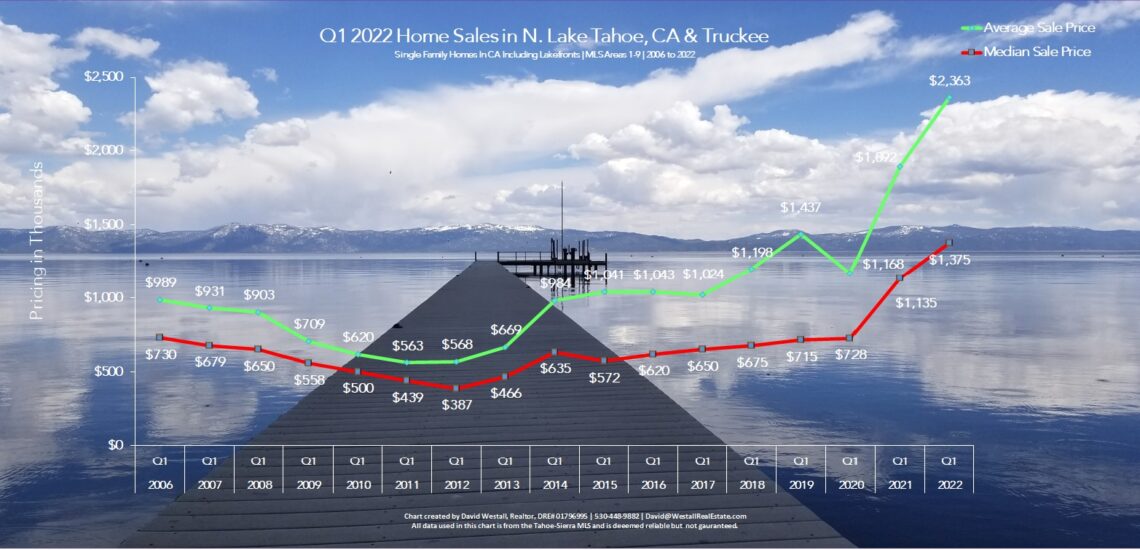 Lake Tahoe Real Estate Q1 2022 Sales Volume Chart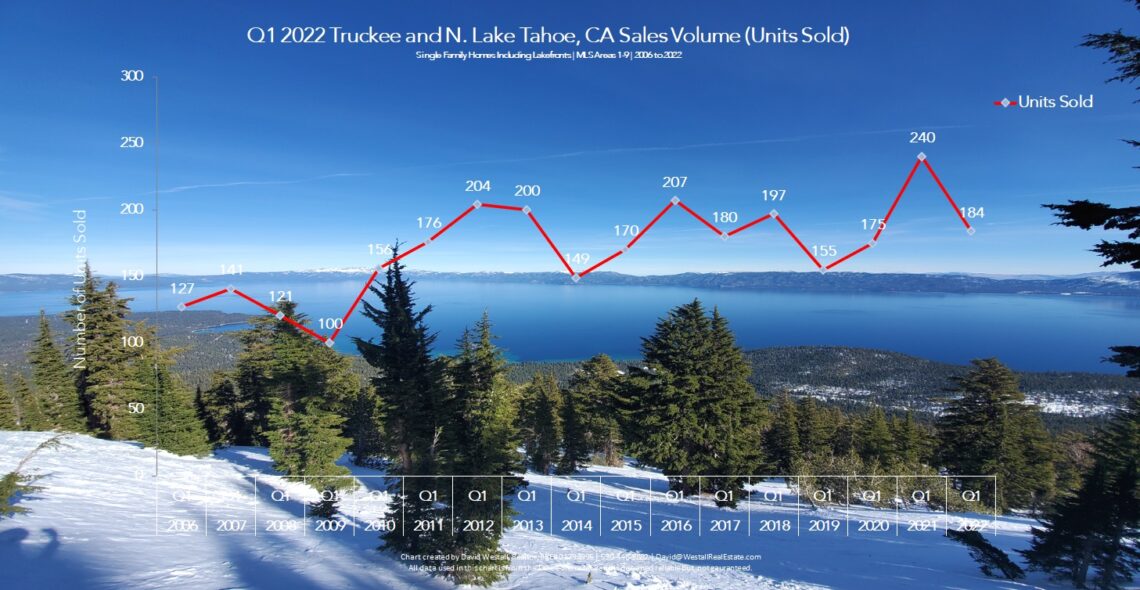 *North Lake Tahoe, CA and Truckee Single-Family Home sales including lakefronts. Data is taken from the Tahoe-Sierra Board of Realtors, MLS Areas 1-9.
Absorption Rate: Only 26 Days of Inventory = Extreme Seller's Market
The term absorption rate refers to a metric used in a specific real estate market to evaluate the rate at which available homes are sold during a given period of time. Here are the metrics and absorption rate for the North Lake Tahoe, CA and Truckee real estate market.
Absorption Rate (single-family homes)
572 Sales in the Last 6 Months
95 Sales per Month
3.17 Sales Per Day
84 Active Listings
84 Listings / 3.17 Sales Per Day = 26 Days of Inventory
>2 Months of Inventory = Strong Seller's Market

High Rates of Appreciation and Regular Multiple Offer Situations

1 to 3 Month Supply of Inventory = Seller's Market
4- 6 Months of Inventory = Balanced Market
6+ Months of Inventory = Buyer's Market
Currently, there are 97 pending homes in escrow with an average list price of $2M and a median list price of $1.5M, which shows that the market remains bullish as pricing continues to rise in this inventory-constrained market.
When Will the Lake Tahoe Real Estate Market Slow Down?
To stabilize the market, we need 4-6 months of inventory or a minimum of 380 active listings. Currently, we have 26 days of inventory, which means that we need 296 new single-family listings to achieve stabilization. Inventory is coming on the market at a painfully slow rate, and we are not close to having supply and demand in equilibrium, which means that the market will remain competitive for the foreseeable future.
As the snow continues to melt and flowers begin to bloom, the number of homes for sale is slightly increasing. Many neighborhoods have little to no housing inventory, keeping the market competitive. I anticipate that over the next 30-45 days that we will continue to see inventory rise, but it seems that we will not get the bump of housing stock needed to bring the market into equilibrium, and pricing will likely continue to rise. We are closely monitoring the effects of rising interest rates, inflation, and the war in Ukraine, as these issues could have an impact on the market.
The Time to Sell is Now
If you are looking to sell your property, now is the perfect time to get your home on the market. I have already sold 6 of my own listings in 2022, and I would love to discuss how my proven marketing plan can help you effectively sell your home and help generate a record sale.
Lake Tahoe Real Estate Market Report Archive
View All Tahoe Real Estate Market Reports
Q1 2021 Real Estate Market Report
Q1 2020 Real Estate Market Report
Contact Dave Westall – Lake Tahoe Real Estate Agent
As the premier Tahoe Realtor, I'm here to help, provide insight, and help you achieve your real estate goals. Let's schedule a Zoom meeting to chat and discuss how I can be of assistance.
For Lake Tahoe real estate news, property listings, and events Sign up for our Newsletter.