After a Slow Start, The Tahoe Real Estate Markets Show Promise
Finally, after a slow start due to a record-setting winter, the Tahoe Real Estate markets are thawing out and we saw major movement between May and June to finish out Q2. The Tahoe markets started out like a turtle in 2019, with slow sales but at a nice steady pace. Typically, we see the spring selling season starts in April/May and this year that has been pushed to June/July. We are just starting to see inventory levels rise as we enter the 4th of July Holiday, which is the official start of Tahoe summer.
Lake Tahoe Real Estate Q2 2019 Market Report Highlights
Median home price is up 4% at the end of Q2 to $751,0000, which is the highest the median home price has ever been
From May to June we saw the average home price jump 10% and the median jumped 5.6%
Sales Volume (units sold) is down 13%, due to the severe winter and lack of inventory
Luxury home sales account for 29% of all sales in 2019
High sale for 2019 is a $37M Tahoe City lakefront, Oliver Luxury Real Estate represented the buyer
13 Martis Camp luxury homes have sold this year with an average price of $4.9M
The Median Home Price is on the Rise
In the months of May and June, we saw the average home price jump 10% and the median jumped 5.6%, which is excellent for a 1-month period. The median home price is up 4% year over year to a new high of $751,000, which is outstanding when you consider that in May, the median home price was sitting at $725,000. This large pricing jump shows me that buyers are positive about investing in Tahoe, the summer selling season is here and we should see a solid finish to the year. We still have a ways to go in order to catch up to the historic 2019 market, but we are making headway with each passing month and buyer demand continues to exceed inventory which is why pricing continues to rise.
The Lake Tahoe Real Estate Selling Season is Upon Us
Now that Q2 is behind us, we are now in what is known as the "selling season" and we can expect sales volume to be at the highest levels of the year. Buyers will be elated to see inventory continue to rise over the next few months which will inevitably spur more sales. If you are considering selling your home, now is the perfect time to get your home on the market and sell for top tier pricing. Demand continues to exceed supply and over the next two months, we will have more buyers in town than at any other point of the year. Don't wait until the kids are back in school, sell now and attract more people to your listing.
Year over Year Lake Tahoe, CA Real Estate Market Conditions and Value Trends
Q2 2019 Statistics
379 Single Family Home Sales Down 12%
Avg. Marketing Time: 82 Days Up 9%
Avg. List to Sold Discount: 5% Up 18%
Total Sales Volume: $459M Down 19%
Average Price: $1.22M Down 7%
Median Price: $751K Up 4%
3 REO & Short Sales Down 25%
7 Sales Below $300K Up 14%
108 Sales over $1M Down 21%
28 Sales over $3M Down 30%
High Sale Price: $37M Down 8%
Low Sale Price: $175K Down 12%
Q2 2018 Statistics
432 Single Family Homes
Average Marketing Time: 75 Days
Avg. List to Sold Discount: 4.1 %
Total Sales Volume: $567M
Average Price: $1.31M
Median Price: $718K
4 REO & Short Sales
6 Sales Below $300K
137 Sales over $1M
40 Sales over $3M
High Sale Price: $40M
Low Sale Price: $199K
Lake Tahoe Real Estate Q2 2019 Market Report Sales Chart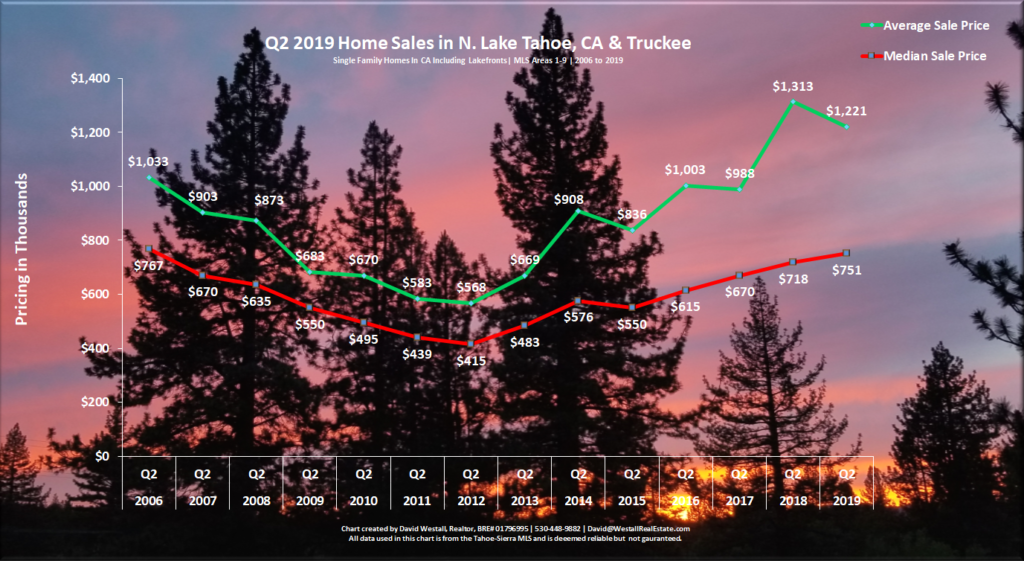 Lake Tahoe Real Estate Q2 2019 Sales Volume Chart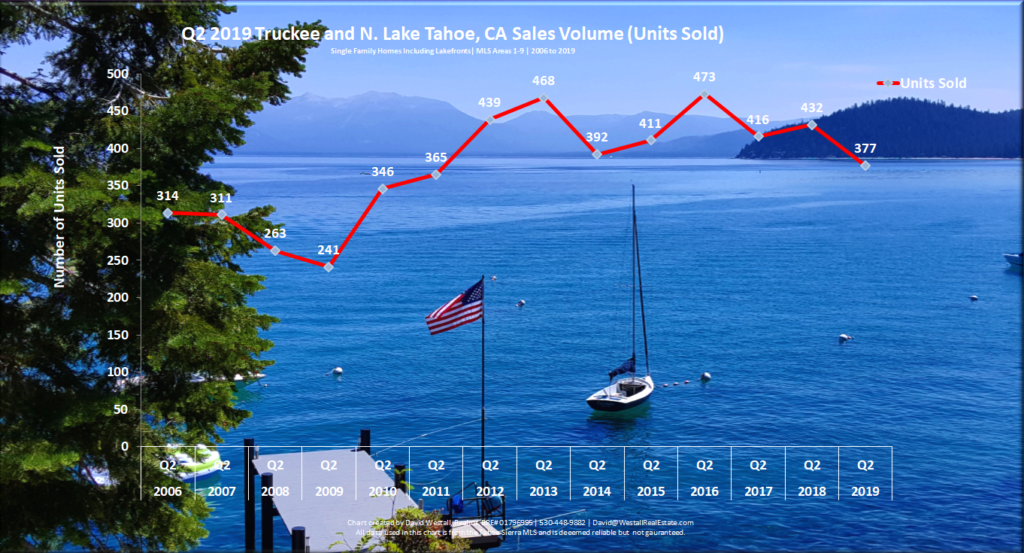 *North Lake Tahoe, CA and Truckee Single-Family Home sales including lakefronts. Data is taken from the Tahoe-Sierra Board of Realtors, MLS Areas 1-9.
Lake Tahoe Real Estate Market Report Archive
Contact Dave Westall – Lake Tahoe Real Estate Agent
Do you have questions about Lake Tahoe Real Estate? Please call me at (530) 448-9882 if you would like to discuss Lake Tahoe real estate market conditions in more detail or to talk about how we can achieve your real estate goals together.
For Lake Tahoe real estate news, property listings, and events Sign up for our Newsletter.