2020 Was a Historic Year for Lake Lake Real Estate
Fueled by a global pandemic, 2020 has entered the history books as the best year ever for N. Lake Tahoe, CA and Truckee real estate sales with 1,604 single-family residential (SFR) home sales worth $2B! There have only been a handful of years where our market exceeded $1B in SFR sales, so making the jump to $2B is monumental and is cause for exuberance! Demand for Tahoe real estate was at an all-time high, and inventory was devoured at a feverish pace. Although it often appeared that there was no inventory, we actually had 54% more home sales in 2020 versus 2019.
Year End 2020 Lake Tahoe Real Estate Highlights
In 2020, the average and median home price closed

Up 14%

2020 total dollar volume was

Up 72%

and represents the first time that the market exceeded $2B in SFR home sales
There were 1,604 single-family home sales, Up 54% over 2019
Luxury home sales accounted for 38% of all sales in 2020
Gray's Crossing sales volume is Up 65%, with the average home price u

p 16%

to $1.74M. The average price per sqft is now $532.94, up 9%
In Lahontan, the average home price is

Up 4%

, and the average price per square foot is up 6% to $688.86
Martis Camp saw 60 sales in 2020, which is

88% more

than in 2019, and the average price was up 4% to $5.6M
A Global Pandemic Fuels Robust Real Estate Sales in Lake Tahoe
At the start of 2020, the North Lake Tahoe, CA, and Truckee real estate markets had a solid Q1 performance featuring strong buyer demand with luxury home sales leading the way. By March, the reality of the COVID 19 pandemic set in as we began to shelter in place, and the markets froze for two months. In May, the market started to thaw out as some restrictions lifted, and we noticed that pent-up demand was present, and buyers were absorbing inventory at a feverish pace.
Q2 trends continued into the summer, and by July, we saw some of the strongest demand that Tahoe has ever seen, and multiple offers were present on just about every home. The strength of Q2 transitioned into Q3 and Q4, which resulted in the strongest market conditions that the N. Tahoe and Truckee have ever seen. If you were a seller, 2020 was filled with opportunity, while buyers had to go above and beyond to secure homes in this feverish market.
What Will it Take to Get The House?
Demand for Tahoe properties rose to historic levels as many buyers were working remotely with no return to the office in sight. Kids were out of school or participating in distance learning, which heightened the demand to be in the mountains outside of urban areas. In short, buyers were looking to enhance their lifestyle and provide safety and comfort to their families. This led to a fierce marketplace where buyer sentiment went from "we would like to have a Tahoe house" to "we need a Tahoe house." With this shift came bidding wars with purchase decisions made out of emotion. Buyers were no longer concerned with the asking price; it became more about "what will it take to get the house." This change in sentiment led to a 54% increase in sales volume and a 14% appreciation in home pricing over 2019.
Year over Year N. Lake Tahoe, CA Real Estate Market Conditions and Value Trends
2020 Statistics
1,604 Single Family Home Sales Up 54%
Marketing Time: 15 Days Down 55%
Avg. List to Sold Discount: 2% Down 50%
Total Sales Volume: $2.01B Up 72%
Average Price: $1.29M Up 14%
Median Price: $850K Up 14%
5 REO & Short Sales Up 25%
13 Sales Below $300K Down 19%
604 Sales over $1M Up 103%
116 Sales over $3M Up 93%
High Sale Price: $11M Down 70%
Low Sale Price: $150K Up 36%
2019 Statistics
1,043 Single Family Home Sales
Marketing Time: 33 Days
Avg. List to Sold Discount: 4%
Total Sales Volume: $1.17B
Average Price: $1.13M
Median Price: $745K
4 REO & Short Sales
16 Sales Below $300K
298 Sales over $1M
60 Sales over $3M
High Sale Price: $37M
Low Sale Price: $110K
Corcoran Global Living Year End Market Reports
Truckee Annual Market Report 2020
North & West Shore Lake Tahoe Annual Market Report 2020
Lake Tahoe Real Estate Year End 2020 Market Report Sales Chart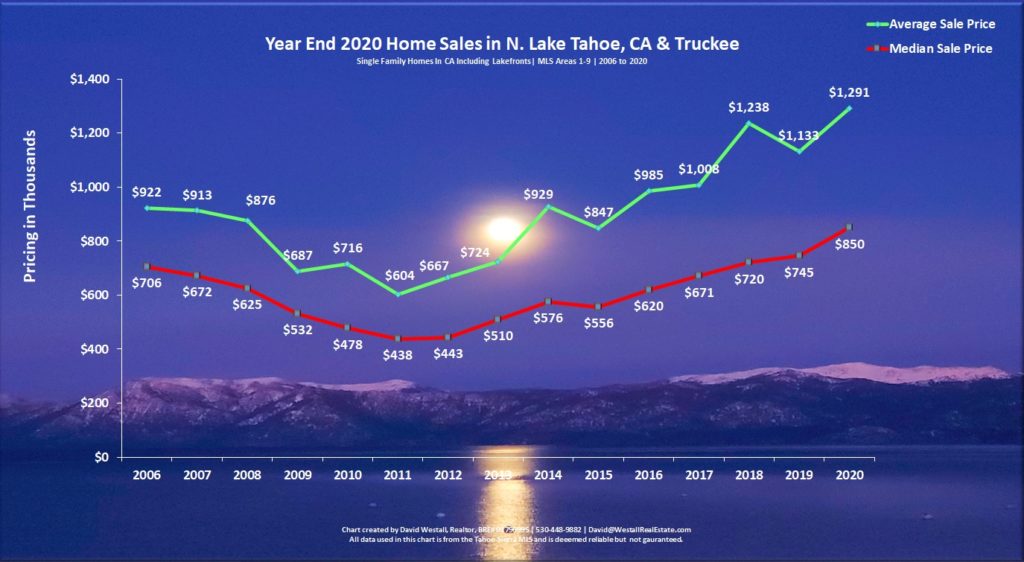 Lake Tahoe Real Estate Year End 2020 Sales Volume Chart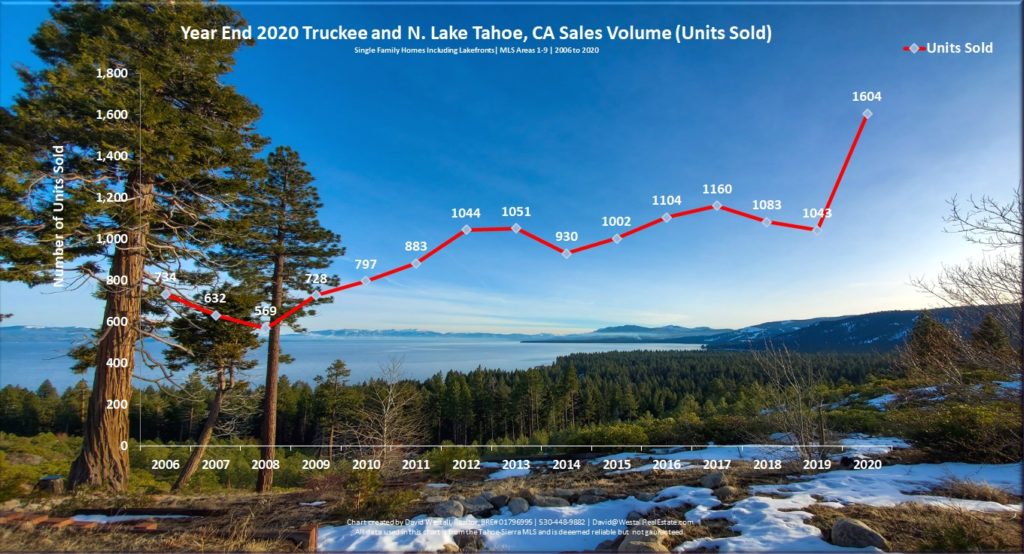 *North Lake Tahoe, CA and Truckee Single-Family Home sales including lakefronts. Data is taken from the Tahoe-Sierra Board of Realtors, MLS Areas 1-9.
2021 is Mirroring Market Conditions Seen in 2020
As the new year begins to unfold, we continue to see above-average buyer demand and limited inventory, which continues to exacerbate the frenzied market conditions experienced in 2020. Traditionally, Q1 inventory is low, but buyer demand also slows. In 2021, buyer activity remains exceptionally strong, which indicates that we are in for a wild ride this year.
As the premier Tahoe Realtor, I'm here to help, provide insight, and help you achieve your real estate goals. Let's schedule a Zoom meeting to chat and discuss how I can be of assistance.
The Experts Weigh In
California Association of Realtors Housing and Pricing Forecast 2021
CoreLogic 3 Year Housing Market Outlook
Zillow 2021 Housing Predictions
National Association of Realtors 2021 Housing Predictions
Lake Tahoe Real Estate Market Report Archive
Contact Dave Westall – Lake Tahoe Real Estate Agent
Do you have questions about Lake Tahoe Real Estate? Please call me at (530) 448-9882 if you would like to discuss Lake Tahoe real estate market conditions in more detail or to talk about how we can achieve your real estate goals together.
For Lake Tahoe real estate news, property listings, and events Sign up for our Newsletter.