Steadfast Buyer Demand and an Inventory Constrained Market Helped Push Sales Volume to $2.12B and Set Numerous Records
The tenacity of the 2021 N. Lake Tahoe, CA real estate market was historic and will not easily fade from memory. Although the volume of single-family home sales retreated 25%, the intense level of buyer demand pushed the median home price up 38% to a new record high of $1,175,000, propelling the total sales volume to a new record high of $2.12B, which is simply astounding!
Lake Tahoe Real Estate Market Report Year End 2021 Highlights
Median Home Price = $1.175M Up 38%
66% of sales in 2021 were priced over $1M
Total Dollar Volume: $2.12B Up 2.5% (new record, second time ever over $2B)
High Sale: West Shore Lakefront at $33M
Martis Camp high sale: 109255 Wyntoon Ct $12.7M
132 sales over $3M, Up 14%
Where's the Inventory?
Inventory was shackled in 2021, pushing overall sales volume down. We averaged approximately 1 month of active listing inventory throughout the year, indicating an extreme seller's market where there were not enough listings to satisfy demand. If 2-3 months of inventory was present, indicating a normal seller's market, the market would have easily exceeded the 2020 unit volume. Even with a 25% reduction in the number of home sales, the Tahoe real estate market still exceeded the total dollar volume of 2020 due to the increased median sale price ($1.17M).
Year over Year Market Conditions and Value Trends
2021 Statistics
1,202 Single Family Home Sales

Down 25%

Marketing Time: 28 Days

Down 45%

List to Sold Ratio: 98%

Down 4%

Total Sales Volume: $2.12B

Up 2.5%

Average Price: $1.76M

Up 37%

Median Price: $1.175M

Up 38%

1 REO & Short Sales

Down 75%

9 Sales Below $400K

Down 81%

723 Sales over $1M

Up 20%

132 Sales over $3M

Up 14%

High Sale Price: $33M

Up 200%

Low Sale Price: $275K

Up 83%
2020 Statistics
1,604 Single Family Home Sales
Marketing Time: 51 Days
List to Sold Ratio: 102%
Total Sales Volume: $2.07B
Average price: $1.29M
Median Price: $850K
4 REO & Short Sales
48 Sales Below $400K
604 Sales over $1M
116 Sales over $3M
High Sale Price: $11M
Low Sale Price: $150K
Lake Tahoe Real Estate Year-End 2021 Market Report Sales Chart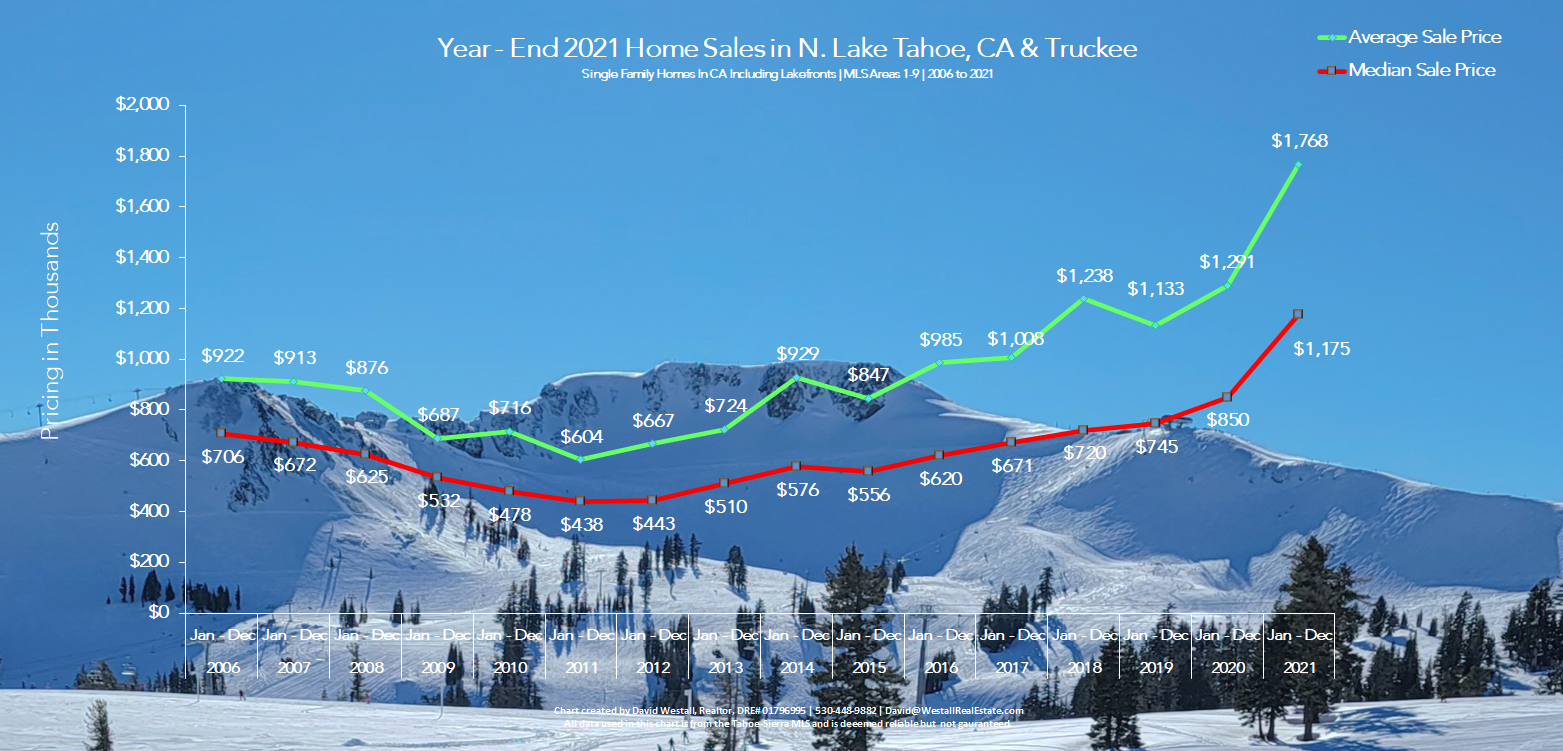 Lake Tahoe Real Estate Year-End 2021 Sales Volume Chart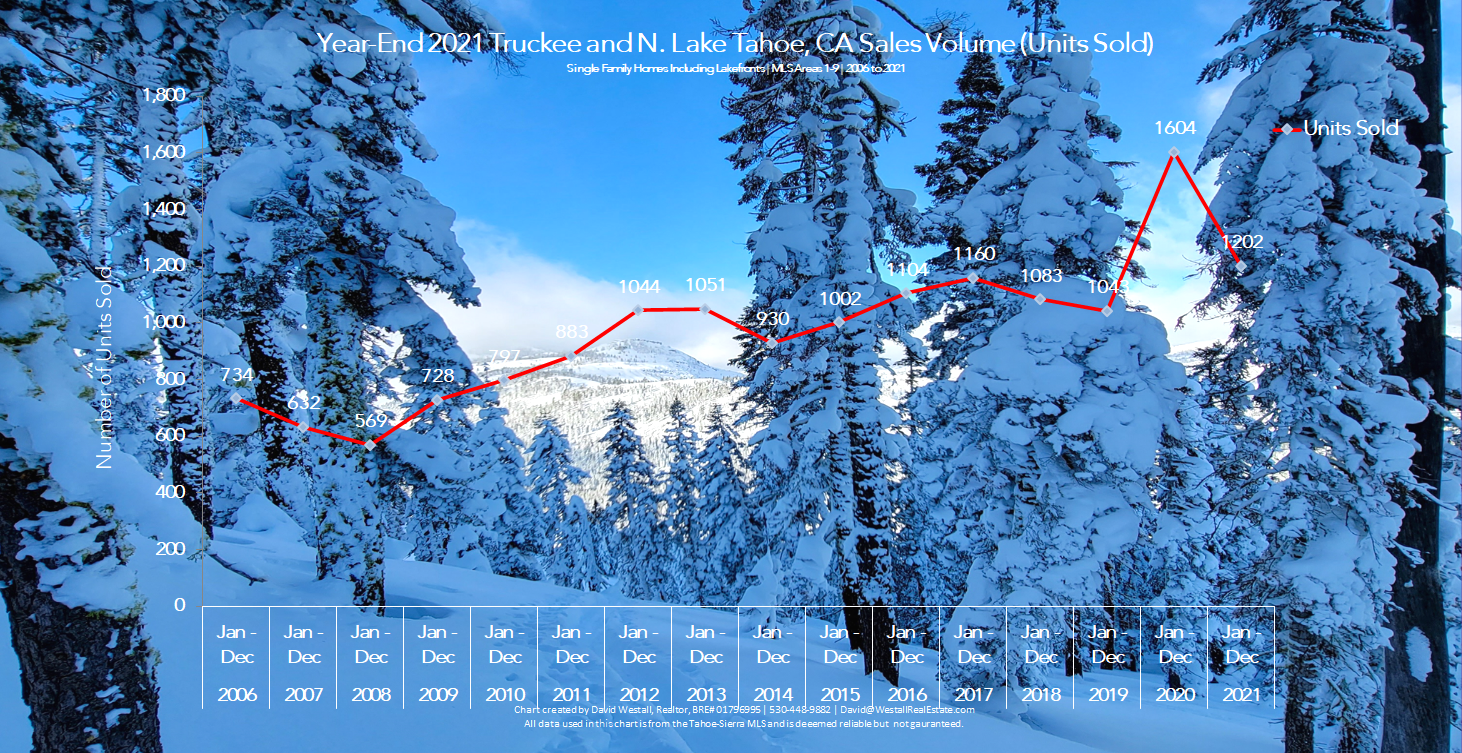 *North Lake Tahoe, CA and Truckee Single-Family Home sales including lakefronts. Data is taken from the Tahoe-Sierra Board of Realtors, MLS Areas 1-9.
Absorption Rate: Only 21 Days of Inventory = Extreme Seller's Market
The term absorption rate refers to a metric used in a specific real estate market to evaluate the rate at which available homes are sold during a given period of time. Here are the metrics and absorption rate for the North Lake Tahoe, CA and Truckee real estate market.
Absorption Rate (single-family homes)
1,202 Sales in the Last 12 Months
100 Sales per Month
3.3 Sales Per Day
70 Active Listings
70 Listings / 3.3 Sales Per Day = 21 Days of Inventor
>2 Months of Inventory = Strong Seller's Market

High Rates of Appreciation and Regular Multiple Offer Situations

1 to 3 Month Supply of Inventory = Seller's Market
4- 6 Months of Inventory = Balanced Market
6+ Months of Inventory = Buyer's Market
Currently, there are 82 pending homes in escrow with an average list price of $1.9M and a median list price of $1.3M, which shows that the market remains bullish as pricing continues to rise in this inventory-constrained market.
When Will the Lake Tahoe Real Estate Market Slow Down?
To stabilize the market, we need 4-6 months of inventory or a total of 400 active listings. Currently, we have 21 Days of inventory, which means that we need 330 new single-family listings to achieve stabilization. Inventory is coming on the market at a painfully slow rate, and we are not close to having supply and demand in equilibrium, which means that the market will remain competitive for the foreseeable future.
During the winter months, we typically see inventory go down to the lowest levels of the year. With winter upon us, it does not seem that market stabilization will take place in the near term, and it's unlikely that stabilization will take place within the next 6-10 months.
The Time to Sell is Now
If you're considering selling your Tahoe/Truckee property, buyer demand is feverish, and inventory is constrained, creating an opportunistic time to sell your home and likely generate a record sale in your neighborhood. List your Tahoe home for sale now as all eyes would be on your property and you would have little to no competition in the market, which will inevitably help you achieve your goals. If selling your home is a consideration, let's chat so that we can review your goals and discuss my proven marketing plan that will ensure the success of your property.
Lake Tahoe Real Estate Market Report Archive
View All Tahoe Real Estate Market Reports
Year-End 2020 Real Estate Market Report
Year-End 2019 Real Estate Market Report
Contact Dave Westall – Lake Tahoe Real Estate Agent
As the premier Tahoe Realtor, I'm here to help, provide insight, and help you achieve your real estate goals. Let's schedule a Zoom meeting to chat and discuss how I can be of assistance.
For Lake Tahoe real estate news, property listings, and events Sign up for our Newsletter.