Wow, I can't believe it's already December! It seems like it was just last month that we were swimming in Lake Tahoe and now we are getting ready for what hopes to be a snow-filled winter in Lake Tahoe. With 11 months of data behind us, it's safe to say that 2014 will go down as a great recovery year for North Lake Tahoe real estate, as average and median single-family home prices are up significantly over 2013, marking 3 years of growth since the economic meltdown.
In 2014, sales of $1M+ homes were up 29% helping push the market forward. The number of distressed sales was down 59% over last year which gave strength to the market and further evidence that we are in full on recovery mode. Although sales volume is down 14% so far in 2014, we are still operating at near record level sales volume. In 2006, the height of the market, there were only 640 sales (Jan – Nov) which is 24% less than our current year to date sales volume. Overall the Tahoe real estate markets look great going into the last month of the year and 2015 is expected to be another appreciation filled year.
November 2014 Lake Tahoe Real Estate Market
Year over Year Market Comparison
January – November 2014 Statistics

January – November 2013 Statistics


840 Single Family Home Sales down 14%
Average Price: $932K up 24%
Median Price: $577K up 13%
47 REO & Short Sales down 59%
8 Sales Below $200K down 70%
173 Sales over $1M up 29%
High Sale Price: $14M

up 32%

Low Sale Price: $76K

up 5%

974 Single Family Homes
Average Price: $713K
Median Price: $505K
115 REO & Short Sales
27 Sales Below $200K
123 Sales over $1M
High Sale Price: $9.49M
Low Sale Price: $72K
*Lake Tahoe and Truckee Single-Family Homes Including Lakefronts, MLS Areas 1-9
November 2014 Lake Tahoe Real Estate Market Analysis Sales Chart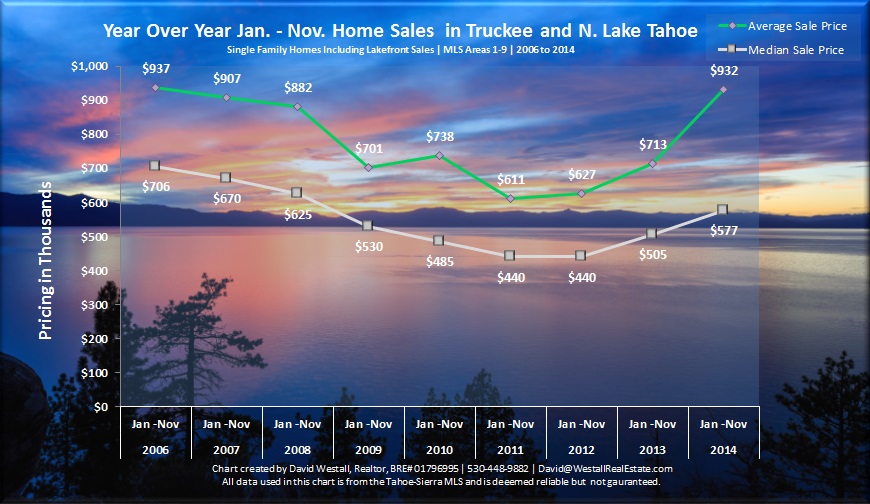 This chart shows that in the first 11 months of 2014 the Average home price in Truckee and N. Lake Tahoe is up 24% and the Median price is up 13% over the same time period in 2013.
Oliver Luxury Real Estate
So far in 2014, Oliver Luxury Real Estate has sold over $196,000,000 in North Tahoe/Truckee real estate making us the #1 luxury brokerage in North Lake Tahoe!
If you include the sales of our Incline Village and Menlo Park offices we have over $360,000,000 in sales for 2014, which is fantastic considering we only have 44 agents between our 6 offices.
Oliver Luxury Real Estate has also sold an unprecedented 22 lakefront homes in 2014, doubling the volume of our closest competition.
Contact Dave Westall, Lake Tahoe Realtor
Are you interested in Lake Tahoe real estate and homes for sale? Dave Westall is your Lake Tahoe Luxury Real Estate expert and is happy to answer any questions you have. Contact Dave at (530) 448-9882 or David@WestallRealEstate.com.
David Westall, Realtor
OLIVER LUXURY REAL ESTATE
P: 530-448-9882
David@WestallRealEstate.com
www.WestallRealEstate.com
CA BRE# 01796995