Martis Camp Real Estate Sales Push Home Pricing to Record Levels
The 2016 Lake Tahoe and Truckee real estate markets continue to show their tenacity in October. Sales volume is through the roof with 950 single family homes sales, the strongest volume ever. The average home price is up 16%, distressed sales are down significantly and luxury home sales continue to be the backbone of the Tahoe real estate market with a 41% increase in volume over 2015.
The luxury segment of the market, specifically sales within the Martis Camp subdivision are driving average home pricing higher. 65% of the sales over $3M are from Martis Camp, which shows that luxury buyers are focused on new, mountain modern homes within this amenity rich gated golf course community. In September 2016, Oliver Luxury Real Estate closed the sale of 1970 West Lake Blvd at $17.5M, the highest priced lakefront sale since 2008. Wealthy buyers are parking huge amounts of cash in Tahoe which is why the luxury sales volume is up 41% this year.
The median home price has been increasing since 2012 and is up 9% this year but it's still 15.7% below the height of the market in 2006. The median home price is more reflective of the overall health of the market and shows that we still have some ground to make up, which creates an appreciation opportunity for buyers purchasing into the Tahoe market.
Year over Year Statistical Comparison
October 2016 Statistics
950 Single Family Home Sales up 14%
Avg. Marketing Time: 89 Days down 8%
Avg. List to Sold Discount: 3.3% down 6%
Average Price: $1.022M up 16%
Median Price: $615K up 9%
21 REO & Short Sales down 28%
27 Sales Below $300K down 37%
225 Sales over $1M up 41%
62 Sales over $3M up 40%
High Sale Price: $17.5M up 49%
Low Sale Price: $192K up 48%
October 2015 Statistics
818 Single Family Homes
Average Marketing Time: 97 Days
Avg. List to Sold Discount: 3.5%
Average Price: $856K
Median Price: $558K
29 REO & Short Sales
43 Sale Below $300K
132 Sales over $1M
37 Sales over $3M
High Sale Price: $8.85M
Low Sale Price: $99.5K
Year Over Year Lake Tahoe Real Estate Sales Chart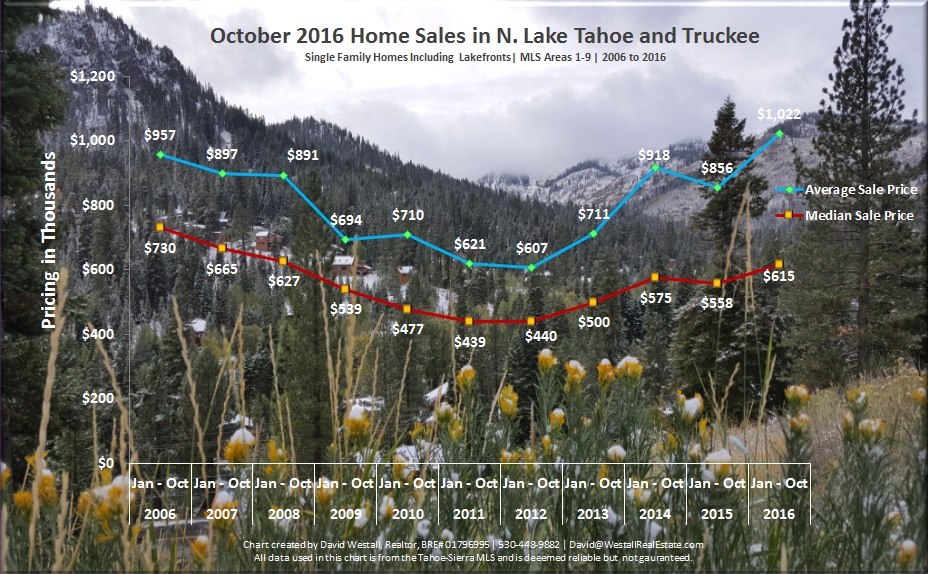 *North Lake Tahoe and Truckee Single Family Home sales including lakefronts. Data taken from the Tahoe-Sierra Board of Realtors, MLS Areas 1-9.
Year Over Year Lake Tahoe Real Estate Sales Volume Chart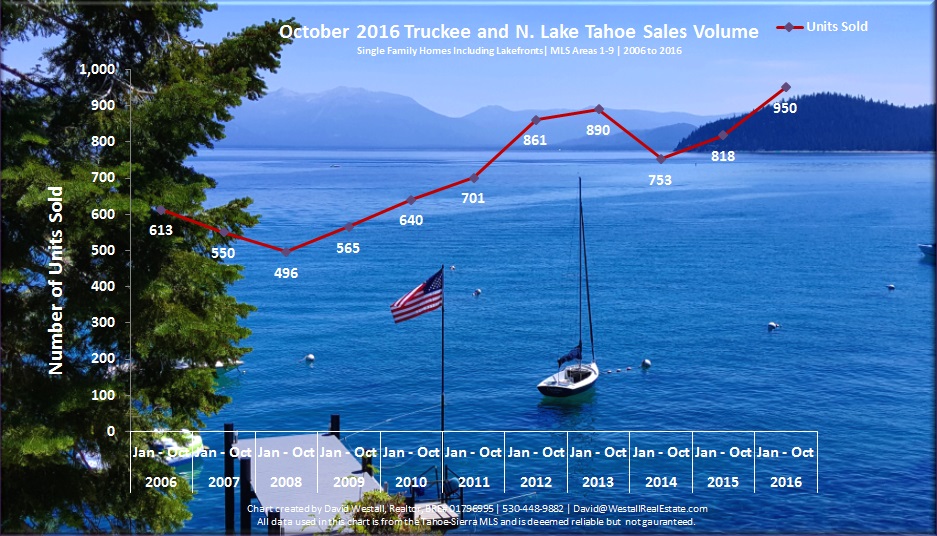 Past Lake Tahoe Market Reports
Do you have questions about Lake Tahoe Real Estate? Please call me at (530) 448-9882 if you would like to discuss the Lake Tahoe real estate market conditions in more detail or talk about the specific market conditions where your home is located. I would be happy to put together a specific market analysis for your home and provide you with information about how I can help you sell your home for top dollar.

For more real estate news, home listings and Lake Tahoe events sign up for our newsletter here.
David Westall, Realtor
OLIVER LUXURY REAL ESTATE
P: 530-448-9882
David@WestallRealEstate.com
CA BRE# 01796995