Lake Tahoe Real Estate Market Heating Up as Snow Melts
Each year as the snow melts in Tahoe; buyers envision themselves creating lasting memories with friends and family in the mountains, which often leads to purchase decisions being made. Traditionally, spring is the start of the Tahoe selling season, and we anticipate that this summer will be one for the record books based on the sales that we just witnessed in the first quarter. With the 4th of July less than 60 days out, there's still time to purchase a house before this classic Tahoe holiday. The 4th of July market bump is real, and with minimal inventory and strong buyer demand, we are poised to witness strong absorption rates as new listings come online.
April 2021 Highlights
Number of Homes Sold up 55%
Total Dollar Volume up 173%
Median Home Price up 103% to $1,342,000
Luxury Home sale volume is up 342% and these sales make up 43% of all sales in April
Sales volume of $3M+ homes is up 250%
*year over year stats
Year over Year Market Conditions and Value Trends
April 2021 Statistics
76 Single Family Home Sales Up 55%
Marketing Time: 38 Days Down 53%
List to Sold Premium: ↑2.6% Up 149%
Total Sales Volume: $131M Up 173%
Average Price: $1.72M Up 74%
Median Price: $1.34 Up 103%
0 REO & Short Sales Even
0 Sales Below $400K Down 300%
53 Sales over $1M Up 342%
7 Sales over $3M Up 250%
High Sale Price: $6.9M Up 33%
Low Sale Price: $500K Up 56%
April 2020 Statistics
49 Single Family Home Sales
Marketing Time: 58 Days
List to Sold Discount: 5.3%
Total Sales Volume: $48M
Average Price: $987K
Median Price: $660K
0 REO & Short Sales
3 Sales Below $400K
12 Sales over $1M
2 Sales over $3M
High Sale Price: $5.2M
Low Sale Price: $320K
Lake Tahoe Real Estate April 2021 Market Report Sales Chart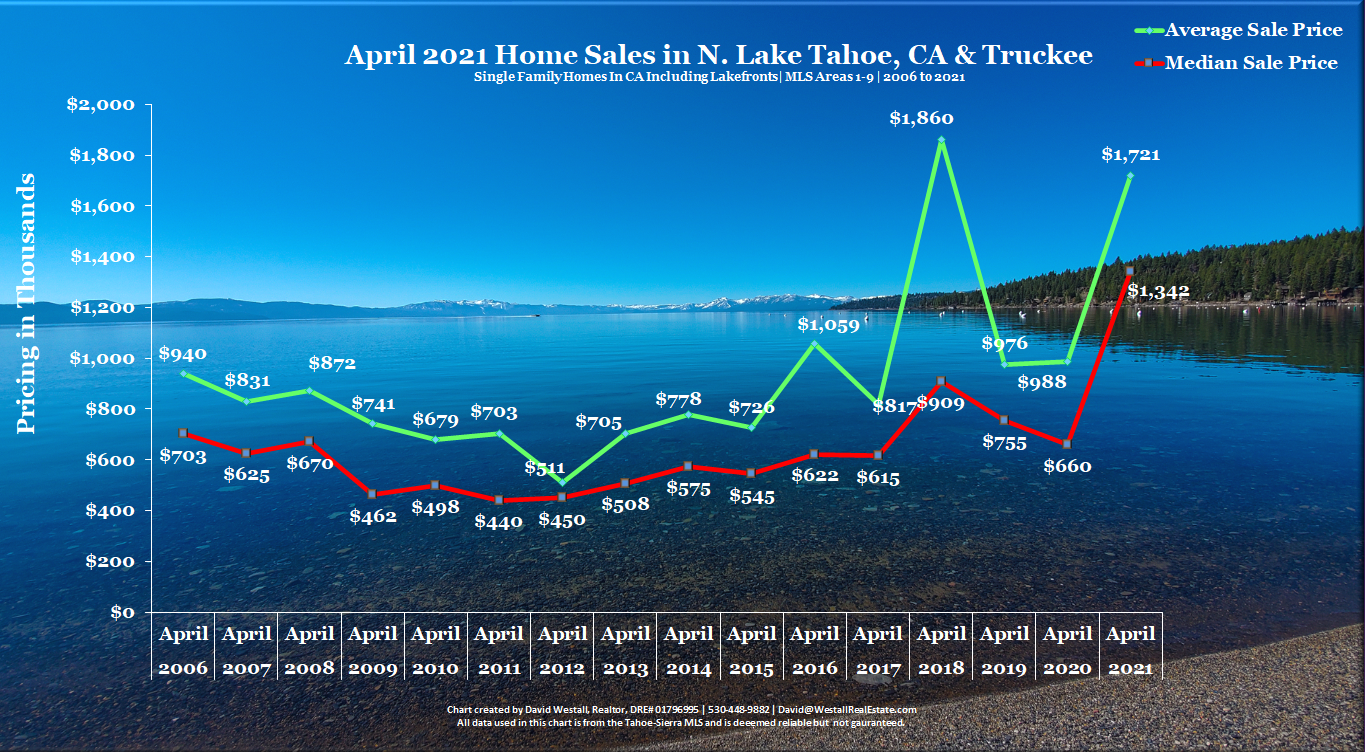 Lake Tahoe Real Estate April 2021 Sales Volume Chart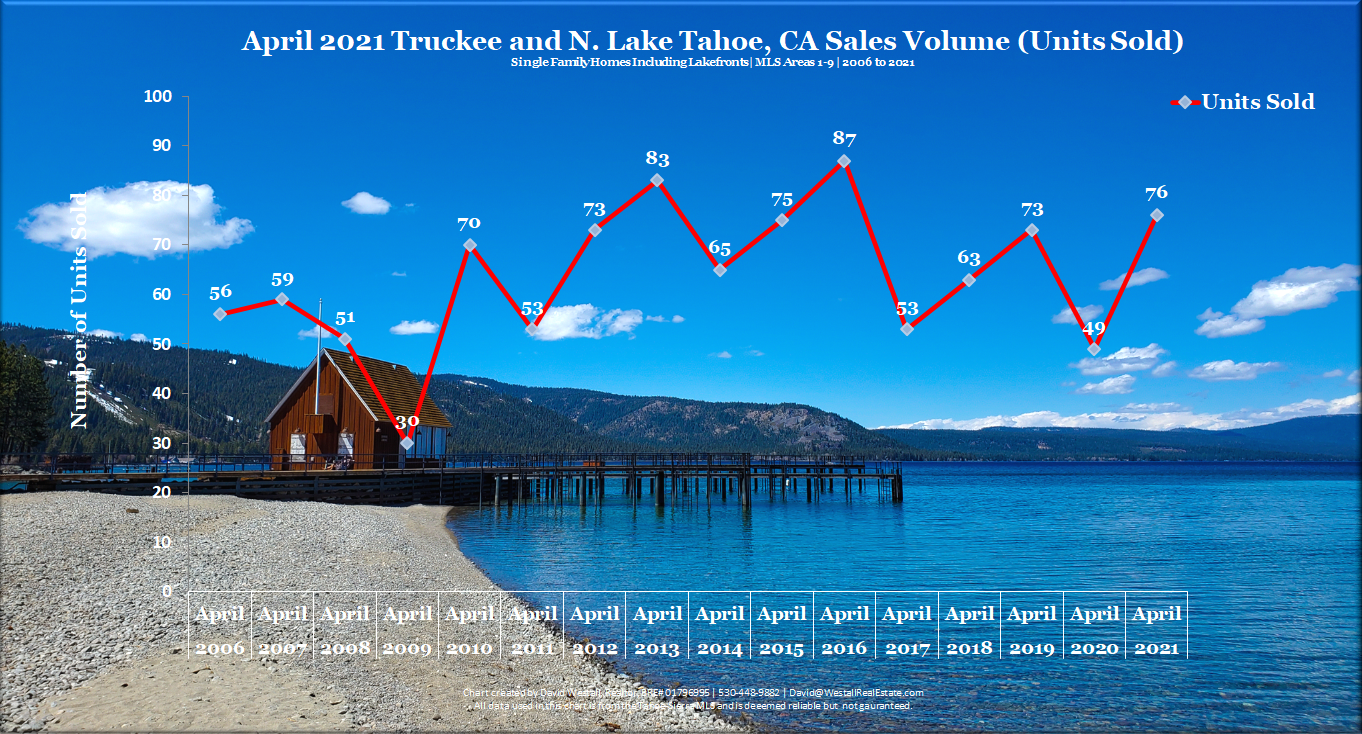 *North Lake Tahoe, CA and Truckee Single-Family Home sales including lakefronts. Data is taken from the Tahoe-Sierra Board of Realtors, MLS Areas 1-9.
Absorbtion Rate: Only 26 Days of Inventory (that's not enough)
The term absorption rate refers to a metric used in a specific real estate market to evaluate the rate at which available homes are sold during a given time period. Here are the metrics and absorption rate for the North Lake Tahoe CA and Truckee real estate market.
616 Sales in the Last 6 Months
3.7 Sales Per Day
95 Active Listings

95 Listings / 3.7 Sales Per Day = 26 Days of Inventory

1 to 3 Month Supply of Inventory = Seller's Market
>1 Month of Inventory = Extreme Seller's Market (we are here)

High Rates of Appreciation and Regular Multiple Offer Situations
Currently, there are 132 pending homes in escrow with an average list price of $1.6M and a median list price of $1.19M, which shows that the market remains bullish as pricing continues to rise in this inventory-constrained market.
Sell Your House & Exceed Your Expectations
If you're considering selling your Tahoe/Truckee property, you chose a good year to do so as buyer demand is vigorous and inventory is constrained, creating an opportunistic time to sell your home and possibly generate a record sale in your neighborhood. As we enter the summer selling season, inventory levels will rise, but it will take significant inventory to satiate buyer demand. This is possibly the best time in history to sell a Tahoe property, so if you are considering moving to the coast or to another destination resort community, we should engineer a custom plan to ensure your success.
When Will the Lake Tahoe Real Estate Market Slow Down?
For the market to stabilize, we need 4-6 months of inventory. Currently, there is a 26 day supply of homes, which means that we need 477% more listings for pricing to stabilize, which equates to 549 single-family listings. This would be a massive bump in inventory and seems unlikely given the current market conditions and economic outlook. 549 new single-family listings would be the same as 18 new homes coming on the market every day for a month, which has an extremely low probability of happening in the near term.
The Lake Tahoe real estate market will not cool off until demand weakens, which could take 7 to 12 months. If the Bay Area economy continues to prosper we will likely see strong market condition for the next 12-18 months. At some point, consolidation will take place in the market and indicate that stabilization is on the way. I will continue to monitor the markets for indicators that things are normalizing and report to you each month.
As the summer selling season gets underway, there will be a noticeable rise in inventory, a theme that will continue into the fall. Buyers with a firm grasp on market conditions, the level of competition, and are equipped with an action plan will be able to move swiftly and purchase their dream home. We are here to help you achieve your goals, so please reach out if you have any questions or if you want to schedule a home tour.
Lake Tahoe Real Estate Market Report Archive
View All Tahoe Real Estate Market Reports
April 2020 Lake Tahoe Market Report
April 2019 Lake Tahoe Market Report
Contact Dave Westall – Lake Tahoe Real Estate Agent
As the premier Tahoe Realtor, I'm here to help, provide insight, and help you achieve your real estate goals. Let's schedule a Zoom meeting to chat and discuss how I can be of assistance.
For Lake Tahoe real estate news, property listings, and events Sign up for our Newsletter.
Want to know the value of your Lake Tahoe home?
Dave Westall, Realtor
Corcoran Global Living
P: 530-448-9882
Dave@WestallRealEstate.com
CA DRE# 01796995