Shackled Inventory Pushes Market Higher
In February 2021, Lake Tahoe real estate inventory remained shackled while buyer demand was rampant. February is typically a slower month for single-family home sales, but in 2021 we witnessed the highest volume of single-family home sales ever, with 72 closings, and dollar volume jumped 160% over February 2020, which is simply remarkable. This monumental jump in dollar volume is attributed to pandemic-fueled luxury home purchases, which made up 67% of total sales in February, another record. Martis Camp produced 8 luxury sales in February, totaling $46.4M, with an average price of $5.8M, which is yet another record. Do you see a theme here?
February 2021 Highlights
Unit volume up 33%
Dollar Volume

up 160%

Average Home Price is up 94%
Luxury Home sales are

up 187%

Sales of $3M+ homes are

up 200%
*year over year stats
A Continuation of Extraordinary Sales
The average sale price for single-family homes in February 2021 was $1,850,000, which is an extraordinary number highlighted by 9 sales over $3M with an average price of $5.5M and a high price of $8.25M in Martis Camp. These are remarkable stats highlight the tenacity of the 2021 market.
Year over Year N. Lake Tahoe, CA Real Estate Market Conditions and Value Trends
February 2021 Statistics
72 Single Family Home Sales Up 33%
Marketing Time: 48 Days Down 52%
Avg. List to Sold Discount: 1% Down 78%
Total Sales Volume: $133.4M Up 160%
Average Price: $1.85M Up 94%
Median Price: $1.27M Up 80%
0 REO & Short Sales Even
3 Sales Below $400K Up 200%
43 Sales over $1M Up 187%
9 Sales over $3M Up 200%
High Sale Price: $8.2M Up 105%
Low Sale Price: $300K Down 3%
February 2020 Statistics
54 Single Family Home Sales
Marketing Time: 100 Days
Avg. List to Sold Discount: 4.6%
Total Sales Volume: $51.3M
Average Price: $952K
Median Price: $705K
0 REO & Short Sales
1 Sales Below $400K
15 Sales over $1M
3 Sales over $3M
High Sale Price: $4M
Low Sale Price: $310K
Lake Tahoe Real Estate February 2021 Market Report Sales Chart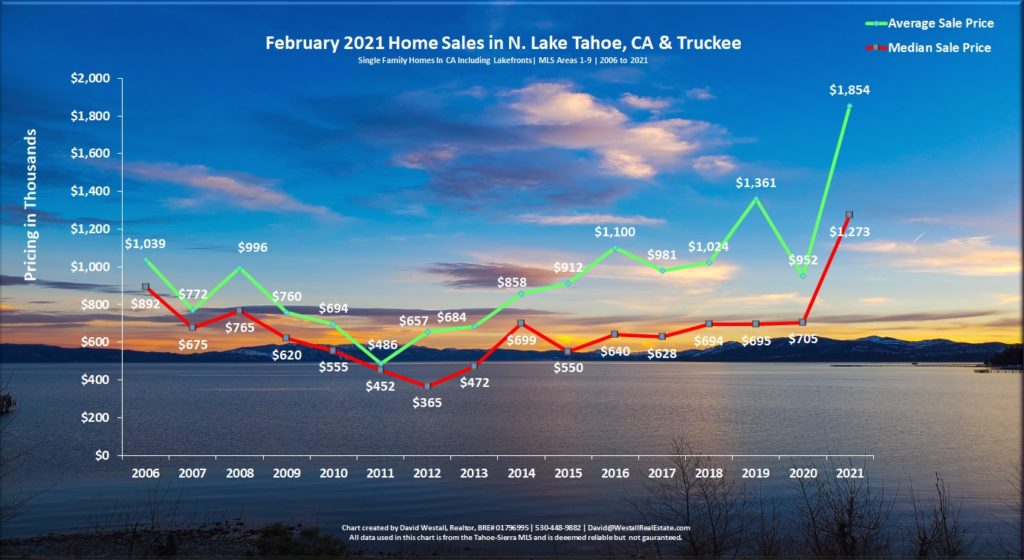 Lake Tahoe Real Estate February 2021 Sales Volume Chart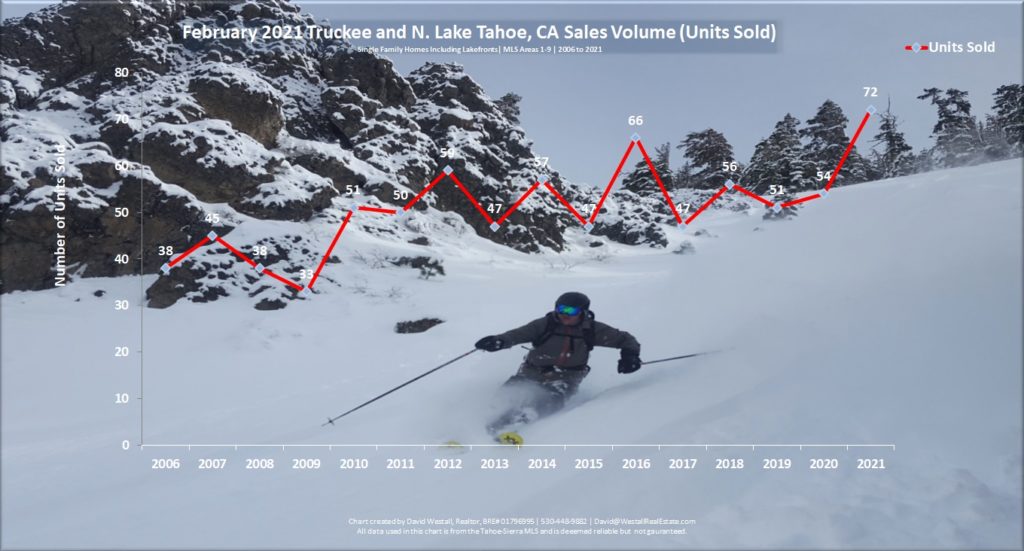 *North Lake Tahoe, CA and Truckee Single-Family Home sales including lakefronts. Data is taken from the Tahoe-Sierra Board of Realtors, MLS Areas 1-9.
Only 14 Days of Inventory
The market gets more interesting when we look at the absorption rate and how quickly homes are being purchased. In the last 6 months, we saw 863 single-family home sales, which is equal to 143.8 sales per month or 4.79 sales per day. As of today (03/18/2021), there are 68 active single-family listings. 68/4.79 = 14 days of inventory! A 1 to 3 months supply of inventory is considered a seller's market, and 14 days of inventory would be considered an extreme seller's market with high rates of appreciation. Currently, there are 119 pending homes in escrow with an average list price of $2M and a median list price of $1.4M, which shows that the market remains bullish as pricing continues to rise in the current inventory-constrained market.
Sell Your House & Likely Set a Record
If you're considering selling your Tahoe/Truckee property, you chose a good year to do so as buyer demand is feverish and inventory is constrained, creating a fantastic opportunity to sell your home and possibly generate a record sale in your neighborhood. As we enter the spring, inventory levels are expected to rise, but it will take a significant amount of inventory to satiate buyer demand. Although inventory is expected to rise, I do not anticipate enough inventory coming online to satisfy demand, which will continue to put upward pressure on the market.
When Will the Lake Tahoe Real Estate Market Slow Down?
In order for the Lake Tahoe Real Estate market to flatten, we would need 4-6 months of inventory. Currently, we have a 14 day supply, which means that we need 900% more inventory for pricing to stabilize, which seems unlikely given the current market conditions and economic outlook.
As Lake Tahoe begins to thaw out this spring, we will continue to monitor market conditions and provide insight. Please reach out if you have any questions or if you wish to discuss a particular neighborhood in more detail.
Lake Tahoe Real Estate Market Report Archive
Contact Dave Westall – Lake Tahoe Real Estate Agent
As the premier Tahoe Realtor, I'm here to help, provide insight, and help you achieve your real estate goals. Let's schedule a Zoom meeting to chat and discuss how I can be of assistance.
For Lake Tahoe real estate news, property listings, and events Sign up for our Newsletter.