Robust Demand, Limited Inventory and Voracious Buyer Demand Continue to Push the Market Higher
The market began to recover from the Great Recession in 2012, and N. Lake Tahoe, CA home prices have been ascending ever since. In 2018 high rates of year-over-year appreciation took place, and then the pandemic struck in 2020, and home values went parabolic, setting record after record. 2022 has some big shoes to fill after the record-breaking year that just closed out, but if January is an indicator for how the year will play out, we are in for a wild ride.
Lake Tahoe Real Estate Market Report January 2022 Highlights
Inventory remains constrained in the New Year, yet buyer demand is higher than expected for January, a typically quiet time for the Lake Tahoe real estate market. Although the volume of homes sold in January was down, pricing continues to rise due to shackled inventory and high demand for Tahoe real estate. As mountain properties trickle onto the market, voracious buyers are ready and waiting to purchase desirable homes.
Demand for Lake Tahoe Luxury Real Estate Cannot be Satisfied
Demand for Tahoe luxury properties remains intense as there are very few high-quality homes available to purchase, especially in the Tahoe Basin. In January, we saw 32 sales over $1M, which helped push the median home price up to $1,070,000. Three of those sales were over $10M pushing the average price up 32% year over year to $2.17M. There is currently only 21 days of inventory making this an extreme sellers market. The icing on the cake for January was the sale of one of the nicest homes on the lake, 4240 North Lake Blvd, which sold for $23.65M! This inspired estate-quality lakefront built by acclaimed builder Bruce Olson is a one-of-a-kind masterpiece, and the new owners must be over the moon with their lifestyle investment.
Year over Year Market Conditions and Value Trends
January 2022 Statistics
62 Single Family Home Sales Down 16%
Marketing Time: 38 Days Up 15%
List to Sold Ratio: 99% Down 2%
Total Sales Volume: $135M Up 15%
Average Price: $2.17M Up 37%
Median Price: $1.075M Up 12%
0 REO & Short Sales Down 100%
1 Sale Below $400K Down 50%
32 Sales over $1M Down 6%
8 Sales over $3M Down 11%
High Sale Price: $23.6M

Up 131%

Low Sale Price: $395K

Up 44%
January 2021 Statistics
74 Single Family Home Sales
Marketing Time: 33 Days
List to Sold Ratio: 101%
Total Sales Volume: $117M
Average price: $1.58M
Median Price: $960K
1 REO & Short Sales
2 Sales Below $400K
34 Sales over $1M
9 Sales over $3M
High Sale Price: $10M
Low Sale Price: $275K
Lake Tahoe Real Estate January 2022 Market Report Sales Chart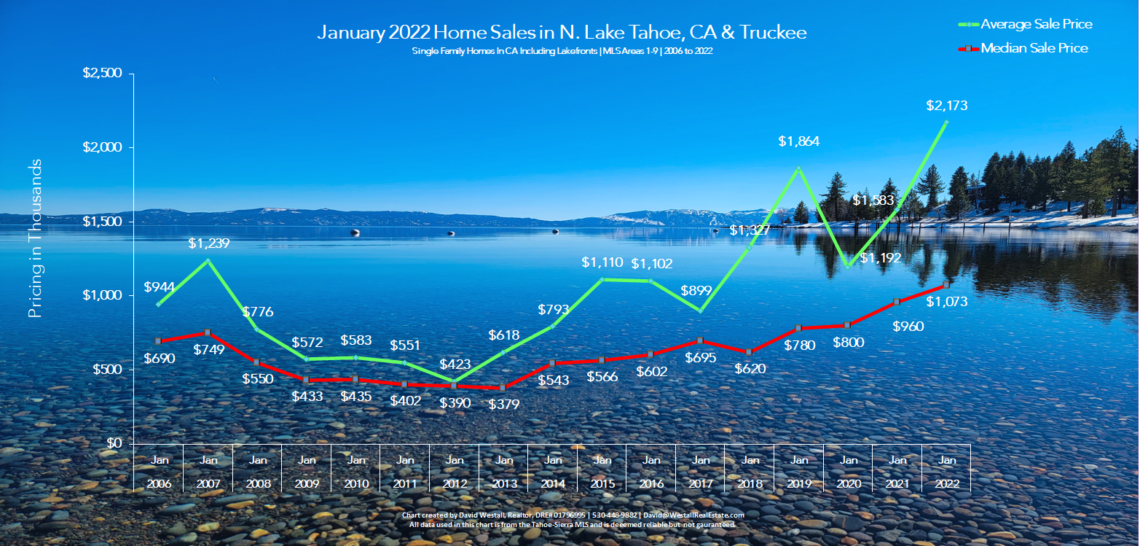 Lake Tahoe Real Estate January 22 Sales Volume Chart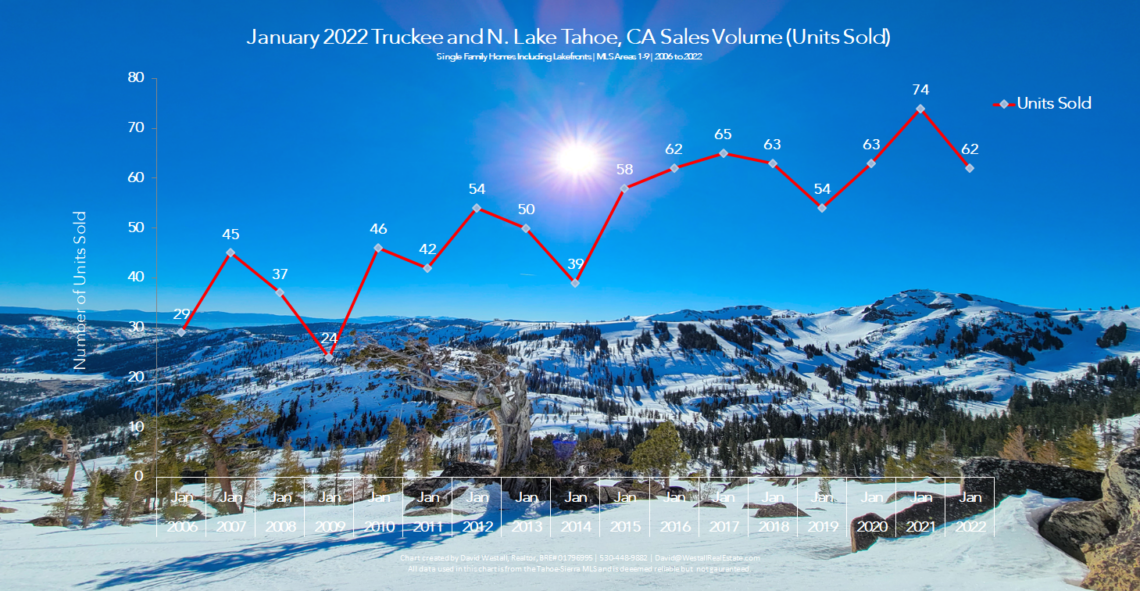 *North Lake Tahoe, CA and Truckee Single-Family Home sales including lakefronts. Data is taken from the Tahoe-Sierra Board of Realtors, MLS Areas 1-9.
Absorption Rate: Only 21 Days of Inventory = Extreme Seller's Market
The term absorption rate refers to a metric used in a specific real estate market to evaluate the rate at which available homes are sold during a given period of time. Here are the metrics and absorption rate for the North Lake Tahoe, CA and Truckee real estate market.
Absorption Rate (single-family homes)
586 Sales in the Last 6 Months
98 Sales per Month
3.25 Sales Per Day
68 Active Listings
68 Listings / 3.25 Sales Per Day = 21 Days of Inventory
>2 Months of Inventory = Strong Seller's Market

High Rates of Appreciation and Regular Multiple Offer Situations

1 to 3 Month Supply of Inventory = Seller's Market
4- 6 Months of Inventory = Balanced Market
6+ Months of Inventory = Buyer's Market
Currently, there are 78 pending homes in escrow with an average list price of $2.6M and a median list price of $2.3M, which shows that the market remains bullish as pricing continues to rise in this inventory-constrained market.
When Will the Lake Tahoe Real Estate Market Slow Down?
To stabilize the market, we need 4-6 months of inventory or a minimum of 390 active listings. Currently, we have 68 active listings or 21 Days of inventory, which means that we need 322 new single-family listings to achieve stabilization. Inventory is coming on the market at a painfully slow rate, and we are no were close to having supply and demand in equilibrium, which means that the market will remain competitive for the foreseeable future.
We are well into winter and buyer demand has not slowed down at all, yet inventory is coming on the market at a painfully slow rate. This market imbalance is pushing pricing higher as almost every sale is a multiple offer situation where buyers are brining their best offers to the table in hopes of getting a deal together. As spring approaches inventory will increase, but summer demand is typically higher than winter, so it seems that imbalance will remain in the Tahoe real estate market for the foreseeable future.
The Time to Sell is Now
If you're considering selling your Tahoe/Truckee property, buyer demand is feverish, and inventory is constrained, creating an opportunistic time to sell your home and possibly generate a record sale in your neighborhood. If you were to list your Tahoe home for sale now, all eyes would be on your property and you would have little competition in the market, which will inevitably help you achieve your goals and sell for the highest price possible.
Lake Tahoe Real Estate Market Report Archive
View All Tahoe Real Estate Market Reports
January 2021 Real Estate Market Report
January 2020 Real Estate Market Report
Contact Dave Westall – Lake Tahoe Real Estate Agent
As the premier Tahoe Realtor, I'm here to help, provide insight, and help you achieve your real estate goals. Let's schedule a Zoom meeting to chat and discuss how I can be of assistance.
For Lake Tahoe real estate news, property listings, and events Sign up for our Newsletter.