Truckee Luxury Golf Course Real Estate is Thriving in Q3, Pushing the Median Home Price up 4%
Coming off the tail of a record-breaking year can often make us feel like the market is soft and not performing to expectations when in reality, the market is entering a stage of normalization. Over the last 3 years, we saw a massive runup in sales volume, average price, and the number of luxury home sales. This trajectory is not sustainable and to see the market soften in some segments is not necessarily a bad thing, especially when you consider that the median home price is up 4% over 2018 and many segments of the market are stronger than ever while other segments are off a bit from the record-breaking 2018 Tahoe real estate sales year.
Lake Tahoe Real Estate Market Report Q3 2019 Highlights
The median home price is up 4% at the end of Q3 to $745,0000
Luxury home sales account for 28.5% of all sales in 2019
High sale for 2019 is a $37M Tahoe City lakefront, Oliver Luxury Real Estate represented the buyer
Gray's Crossing sales volume is up 100% over 2018 with the median home price up 13% to $1.58M
Lahontan real estate saw the median home price jump 28%, the average is up 15.4% and the average price per square foot is up 7.5%, mostly due to a higher volume of new construction sales this year
24 Martis Camp luxury homes have sold this year with an average price of $5.1M
There is High Buyer Demand and Low Inventory in the sub $700K Price Points
Currently, buyers looking for homes in the sub $700K price points are met with fierce competition and pent up demand, especially if these buyers are shopping in some of the more desirable neighborhoods that have suffered from a lack of inventory over the last few years. There is less competition in the $800K to $1.2M price points (neighborhood dependent) and buyers have more negotiation power as this segment has been a little flat. Overall, buyers are looking for updated or newer homes with the finishes that they see on HGTV. If a home is dated, tired, and not in the best location, it is going to be a more difficult sale unless the pricing reflects the cost of upgrades. This is why we see some homes receiving multiple offers within days of hitting the market and other homes lingering on the market for above-average marketing times.
Demand for New Construction Luxury Homes is Pushing Pricing Upwards
The golf course communities are the big winners so far in 2019! The average home price in Lahontan is up 15.4%, the median home price in Gray's Crossing is up 13% and the average home price in Martis Camp is now $5.1M. Demand for new construction Tahoe luxury homes is very high and these communities are delivering a product that buyers love and are willing to pay top dollar for.
Expect Solid Gains in the 4th Quarter
The 4th quarter is historically one of the biggest quarters of the year for Tahoe real estate sales and traditionally makes up 25% of all sales for the year. This year should be no exception as we currently have 168 homes in escrow and buyer demand has not slowed, which should provide us with a strong finish to 2019.
Year over Year Lake Tahoe, CA Real Estate Market Conditions and Value Trends
Q3 2019 Statistics
726 Single Family Home Sales Down 9%
Avg. Marketing Time: 67 Days Up 7%
Avg. List to Sold Discount: 4.5% Up 18%
Total Sales Volume: $844M Down 16%
Average Price: $1.17M Down 3%
Median Price: $745K Up 4%
4 REO & Short Sales Even
14 Sales Below $300K Up 7%
207 Sales over $1M Down 10%
44 Sales over $3M Down 27%
High Sale Price: $37M Down 8%
Low Sale Price: $110K Down 35%
Q3 2018 Statistics
801 Single Family Homes
Average Marketing Time: 62 Days
Avg. List to Sold Discount: 3.7%
Total Sales Volume: $999M
Average Price: $1.2M
Median Price: $716K
4 REO & Short Sales
13 Sales Below $300K
230 Sales over $1M
60 Sales over $3M
High Sale Price: $40M
Low Sale Price: $168K
Lake Tahoe Real Estate Q3 2019 Market Report Sales Chart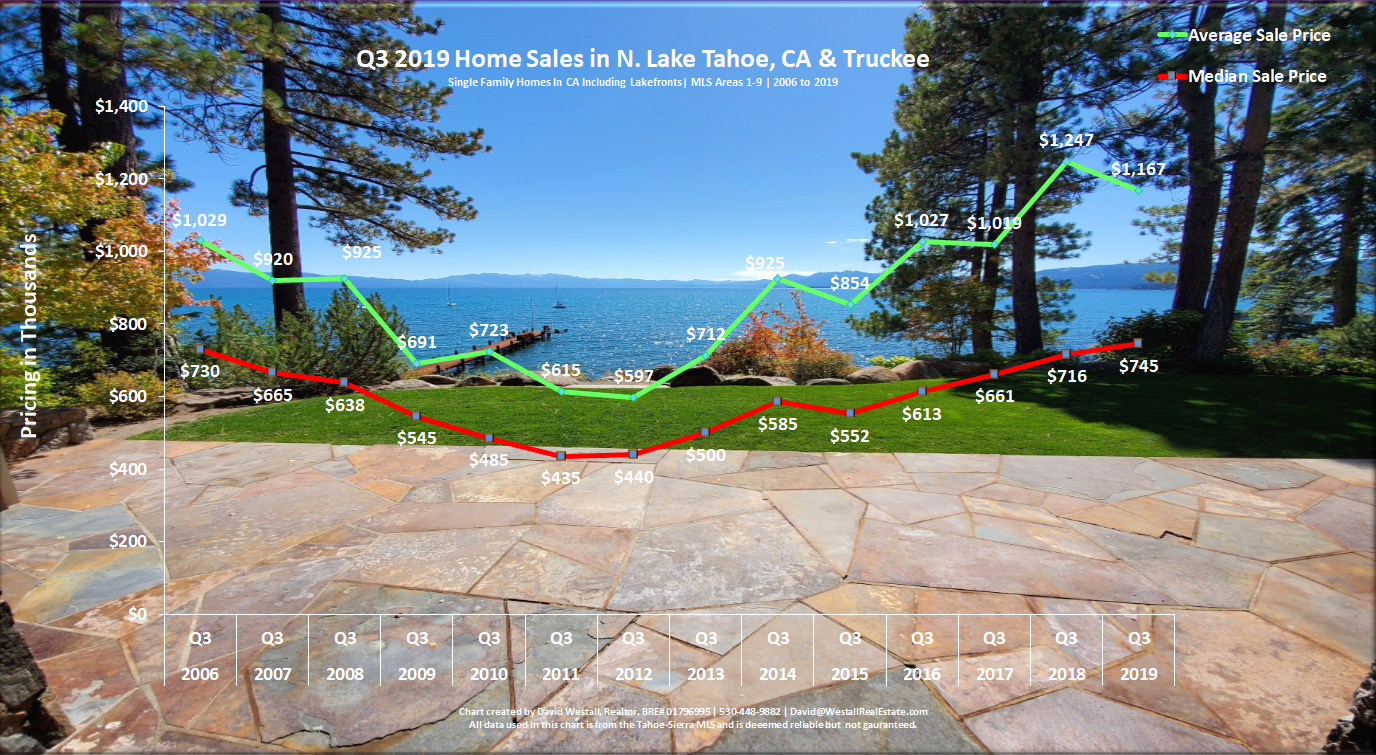 Lake Tahoe Real Estate Q3 2019 Sales Volume Chart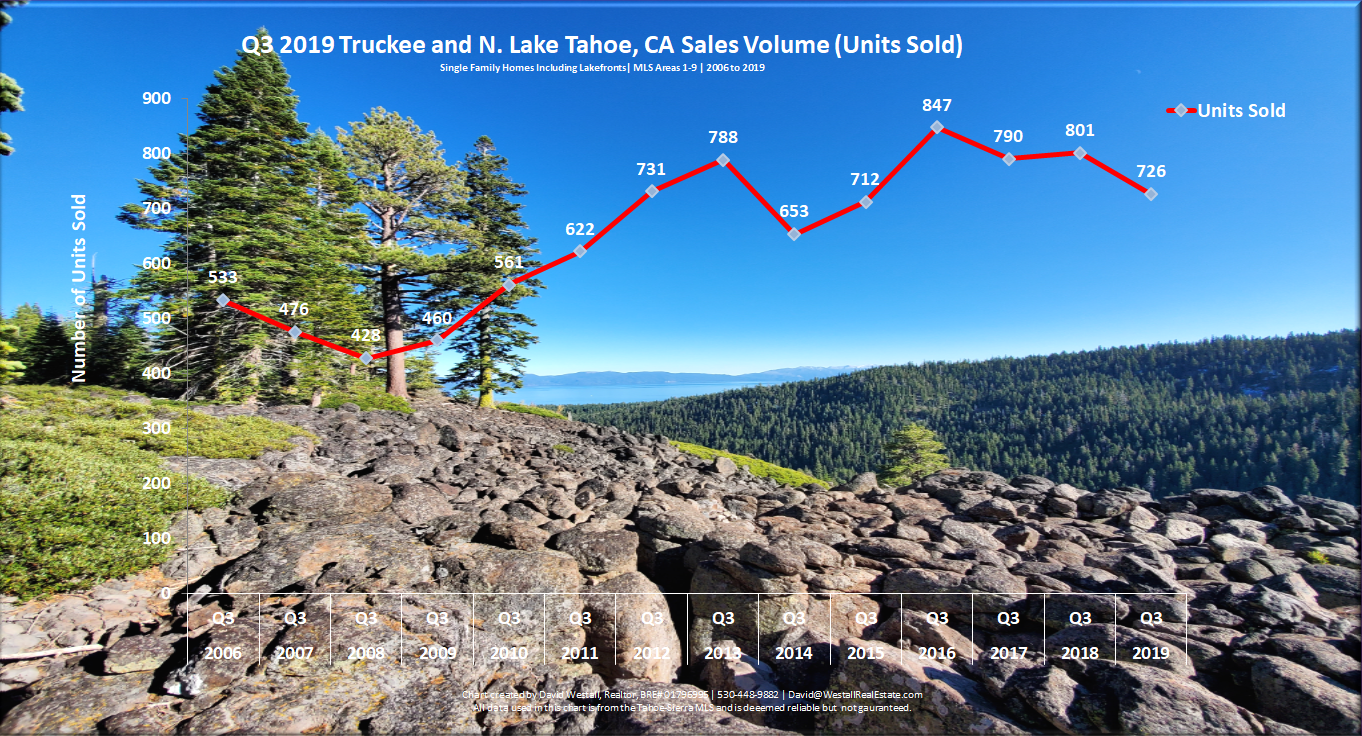 *North Lake Tahoe, CA and Truckee Single-Family Home sales including lakefronts. Data is taken from the Tahoe-Sierra Board of Realtors, MLS Areas 1-9.
Lake Tahoe Real Estate Market Report Archive
Contact Dave Westall – Lake Tahoe Real Estate Agent
Do you have questions about Lake Tahoe Real Estate? Please call me at (530) 448-9882 if you would like to discuss Lake Tahoe real estate market conditions in more detail or to talk about how we can achieve your real estate goals together.
For Lake Tahoe real estate news, property listings, and events Sign up for our Newsletter.